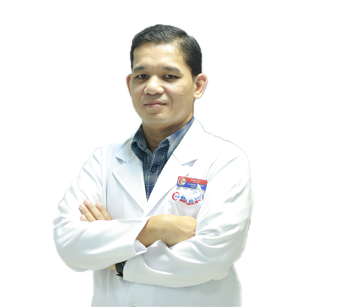 Dr ROMEL HUERTO
Specialist Radiologist
Radiology
MBBS, MD, DPBR
14 years of experience
Sur (Oman)
About Dr ROMEL HUERTO
Dr Romel is a diagnostic physician specialized in Radiology. He has more than 10 years of working experience with major exposure to Ultrasonography and Diagnostic X-ray studies. Apart from routine procedures in the Radiology department, he is also trained in minor sonologic interventions like ultrasound - guided biopsies, thoracentesis and abdominal paracentesis. He has also been part of an infertility treatment team and assisted in IVF procedures with regards to follicular aspiration and embryo transfers.
Excellence & Experience
Area of excellence
FAST scanning
Interventional procedures
Obstetric scanning
Level of Experience
After passing the speciality board examinations for Radiology in 2007, Dr Romel served in rural areas in his home province as a Diagnostic Radiologist.
Then he went abroad and was employed in a private institution in KSA for 4 years from 2008 - 2012.
He then joined Badr Al Samaa in September of 2012 and is presently assigned in Sur branch.
Awards & Academics
Academics Details
Board passer - Philippine Board of Radiology
Medical Specialist in Radiology - AFP Medical Center (Philippines)
Medical Doctor - University of Santo Tomas (Philippines)
Bachelor of Science - University of Santo Tomas (Philippines)
Out Patient Timings
The outpatient timings at Badr Al Samaa Hospitals have been planned in such a way that your choice of doctor is available whenever you are free.
Sunday
9:00 AM - 1:00 PM
Sur - Oman
5:00 PM - 9:00 PM
Sur - Oman
Monday
9:00 AM - 1:00 PM
Sur - Oman
5:00 PM - 9:00 PM
Sur - Oman
Tuesday
9:00 AM - 1:00 PM
Sur - Oman
5:00 PM - 9:00 PM
Sur - Oman
Wednesday
9:00 AM - 1:00 PM
Sur - Oman
5:00 PM - 9:00 PM
Sur - Oman
Thursday
9:00 AM - 1:00 PM
Sur - Oman
5:00 PM - 9:00 PM
Sur - Oman
Friday
Saturday
9:00 AM - 1:00 PM
Sur - Oman
5:00 PM - 9:00 PM
Sur - Oman