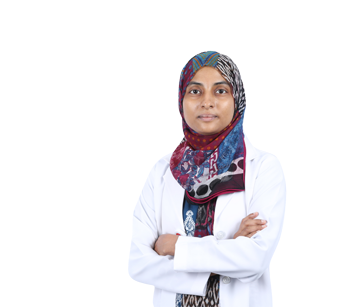 DR FOUZIA HUSSAIN PENGATTEERI
Specialist
Obstetrics & Gynaecology
MBBS, MS
9 years of experience
Dubai (UAE)
About DR FOUZIA HUSSAIN PENGATTEERI
Dr Fouzia Hussain Pengatteeri has over 9 years of professional experience in the field of Obstetrics and Gynecology; of which 6 years was in the UAE. She joined Badr Al Samaa Group of Hospitals in 2012 and has been handling diverse patient populations. She is highly skilled in managing high-risk pregnancies, infertility cases, menstrual irregularities and hormonal imbalances. She is also an expert in managing adolescent health, women's health (breast cancer and cervical cancer screening) and counselling on family planning. She regularly attends workshops and conferences to keep abreast of new developments in her field.
Excellence & Experience
Area of excellence
Normal and high-risk pregnancy
Evaluation counselling and management of infertility
Management of menstrual irregularities and hormonal imbalances
Adolescent health
Women's health – breast examination and screening for cervical cancer
Pre-conception counselling, family planning and contraceptive advice
Obstetric and gynecologic ultrasounds
Level of Experience
Thejaswini Co-operative Hospital, India – 2009-2012
Awards & Academics
Academics Details
MBBS – Academy of Medical Sciences, Kannur University, India - 2003
MS (Obstetrics and Gynaecology) – Kasturba Medical College Manipal, Academy of Higher Education - 2009
Out Patient Timings
The outpatient timings at Badr Al Samaa Hospitals have been planned in such a way that your choice of doctor is available whenever you are free.
Sunday
9:00 AM - 5:00 PM
Dubai - UAE
Monday
9:00 AM - 5:00 PM
Dubai - UAE
Tuesday
9:00 AM - 5:00 PM
Dubai - UAE
Wednesday
9:00 AM - 5:00 PM
Dubai - UAE
Thursday
2:00 PM - 10:00 PM
Dubai - UAE
Friday
Saturday
9:00 AM - 5:00 PM
Dubai - UAE