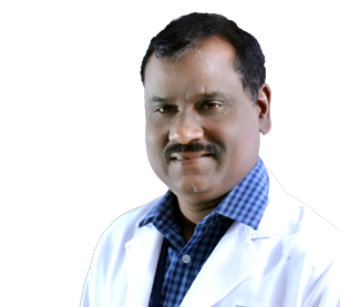 DR JOLINGI TATA RAO
Specialist Orthopedician
Orthopaedics
MBBS, MS- Orthopedics
27+ years of experience
Salmabad (Bahrain)
About DR JOLINGI TATA RAO
Dr Jolingi Tata Rao is a highly knowledgeable Orthopedist with 16 years of experience in his field of specialization and an overall 27 years of experience post his graduation. He is skilled in both conservative and operative treatment of orthopedic problems with a special interest in trauma cases. He is an excellent orthopedic surgeon and fully experienced in performing all types of major and minor surgical procedures. He is also interested in sports injuries where arthroscopic surgeries are required. His interests include conservative and operative management of rheumatism and joint diseases too. He regularly attends conferences and has presented and published research papers.
Excellence & Experience
Area of excellence
Operative and conservative treatments
Rheumatism
Joint diseases
Trauma care
Sports injuries
All types of major and minor orthopedic surgeries
Level of Experience
16 years (post MS Orthopedics)
27 years (after graduation MBBS)
Awards & Academics
Academics Details
MBBS
MS - Orthopedics
Arthroplasty of knee (3 months course) – Sriram Krishna Hospital, Coimbatore – 2011
Imperial Spine course – London, UK - 2011
Out Patient Timings
The outpatient timings at Badr Al Samaa Hospitals have been planned in such a way that your choice of doctor is available whenever you are free.
Sunday
9:00 AM - 1:00 PM
Salmabad - Bahrain
5:30 PM - 9:30 PM
Salmabad - Bahrain
Monday
9:00 AM - 1:00 PM
Salmabad - Bahrain
5:30 PM - 9:30 PM
Salmabad - Bahrain
Tuesday
9:00 AM - 1:00 PM
Salmabad - Bahrain
5:30 PM - 9:30 PM
Salmabad - Bahrain
Wednesday
9:00 AM - 1:00 PM
Salmabad - Bahrain
5:30 PM - 9:30 PM
Salmabad - Bahrain
Thursday
9:00 AM - 1:00 PM
Salmabad - Bahrain
5:30 PM - 9:30 PM
Salmabad - Bahrain
Friday
Saturday
9:00 AM - 1:00 PM
Salmabad - Bahrain
5:30 PM - 9:30 PM
Salmabad - Bahrain