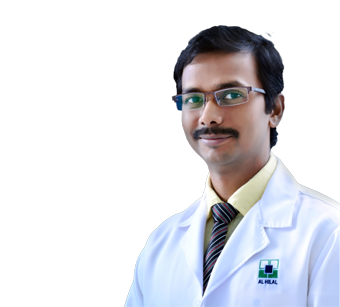 DR SAJI KUMAR V
Specialist Pediatrician
Paediatrics & Neonatology
MBBS, MD, PGPN
4+ years of experience
Manama (Bahrain)
About DR SAJI KUMAR V
Dr Saji Kumar is currently working as a Specialist Paediatrician and has more than 4 years of professional experience garnered from working as a Consultant Paediatrician in India. He has specialised further in the field of pediatric nutrition as his interests lie in childhood obesity and nutrition. Aside from this, he has an interest in managing asthma and allergies amongst his young patients. He handles the pediatric OP and inpatients with great skill and kind demeanor for better understanding with his young patients. Dr Saji is also an expert in handling pediatric emergency cases with composure and providing a timely diagnosis.
Excellence & Experience
Area of excellence
Childhood Obesity
Allergy and Asthma
Nutrition
Level of Experience
Consultant Paediatrician - NIMS Medicity, Trivandrum, India - 2015-2018
Awards & Academics
Academics Details
MBBS - Trichy Govt. Medical College - 2009
MD (Paediatrics) - Trivandrum Govt. Medical College - 2014
PGPN- Post Graduate in Paediatric Nutrition
Out Patient Timings
The outpatient timings at Badr Al Samaa Hospitals have been planned in such a way that your choice of doctor is available whenever you are free.
Sunday
3:00 PM - 11:00 PM
Manama - Bahrain
Monday
3:00 PM - 11:00 PM
Manama - Bahrain
Tuesday
3:00 PM - 11:00 PM
Manama - Bahrain
Wednesday
3:00 PM - 11:00 PM
Manama - Bahrain
Thursday
3:00 PM - 11:00 PM
Manama - Bahrain
Friday
9:30 AM - 12:30 PM
Manama - Bahrain
4:30 PM - 9:30 PM
Manama - Bahrain
Saturday