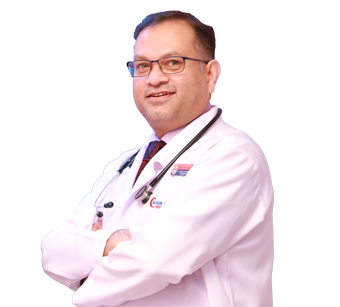 DR VISHAL SRIVASTAVA
Specialist Orthopedician
Orthopaedics
MBBS, Dip. Ortho
19 years of experience
Nizwa (Oman)
About DR VISHAL SRIVASTAVA
Dr Vishal Srivastava is a highly skilled Consultant Orthopedician with over 15 yrs of outstanding experience gained in India and Muscat. He has worked across numerous prestigious medical colleges and hospitals during the course of his training. He has undergone specialist Arthroscopic surgery training and his special interests lie in the management of polytrauma cases and in Hand Surgery. He has been extending his professional knowledge and care for the people of Oman since 2011 when he joined Badr Al Samaa Group of Hospitals.
Excellence & Experience
Level of Experience
Cancer Hospital and Research Centre, Gwalior, MP - 2006-2008
Bombay Medical Diagnostic Center, Muscat - 2008-2010
Badr Al Samaa Group of Hospitals, Oman 2011 till date
Awards & Academics
Academics Details
MBBS - Odessa State Medical University, Odessa, Ukraine - 1993-2000
Internship - Safdarjung Hospital - 2000-2001
D Ortho - Loni Medical College - 2002-2004
DNB Training MOSC - Medical College, Kollenchery - 2005-2007
Arthroscopy Training – Sancheti Hospital, Pune
Out Patient Timings
The outpatient timings at Badr Al Samaa Hospitals have been planned in such a way that your choice of doctor is available whenever you are free.
Sunday
9:00 AM - 1:00 PM
Nizwa - Oman
5:00 PM - 9:00 PM
Nizwa - Oman
Monday
9:00 AM - 1:00 PM
Nizwa - Oman
5:00 PM - 9:00 PM
Nizwa - Oman
Tuesday
9:00 AM - 1:00 PM
Nizwa - Oman
5:00 PM - 9:00 PM
Nizwa - Oman
Wednesday
9:00 AM - 1:00 PM
Nizwa - Oman
5:00 PM - 9:00 PM
Nizwa - Oman
Thursday
9:00 AM - 1:00 PM
Nizwa - Oman
5:00 PM - 9:00 PM
Nizwa - Oman
Friday
Saturday
9:00 AM - 1:00 PM
Nizwa - Oman
5:00 PM - 9:00 PM
Nizwa - Oman