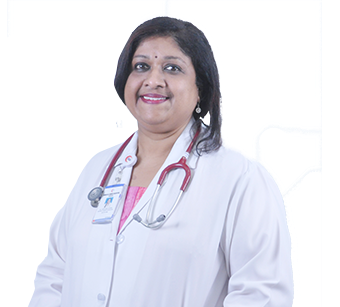 Dr Rakhi George
Specialist
Obstetrics & Gynaecology
MBBS, DGO
27 years of experience
Salalah (Oman)
About Dr Rakhi George
Dr Rakhi Saby George is a dynamic Specialist Obstetrician and Gynaecologist who is very passionate about her patients. She has over 23 years of experience in treating the simplest to the most complicated cases of Obstetric and gynaecological cases. She is excellent in providing antenatal and postnatal care and manages painless labours effortlessly. She is equally adept with her surgical skills and performs repair procedures, laparotomies for ectopic pregnancies, explorative laparoscopies, corrective procedures as well as hysterectomies. She is successful in treating cases of infertility too and stays abreast of the latest techniques and technologies in her field.
Excellence & Experience
Area of excellence
High Risk Pregnancies
Painless Labour
Infertility
Laparotomy
Explorative Laparoscopy
All Gynaecological problems
Adolescent Gynaecological Conditions
Level of Experience
Dr Rakhi has worked with the Kerala Health Service as well as with corporate hospitals in India.
She has worked in tertiary level Hospitals with High-Risk Obstetric Back-up, Advanced NICU and Endoscopic Surgery Facilities.
Awards & Academics
Academics Details
OBG (FAGE) - Kasturba Medical College, Mangalore, Manipal
PG (DGO) - Kasturba Medical College, Mangalore, Manipal -2000
MBBS – Kasturba Medical College, Mangalore, Manipal - 1996
Out Patient Timings
The outpatient timings at Badr Al Samaa Hospitals have been planned in such a way that your choice of doctor is available whenever you are free.
Sunday
10:00 AM - 2:00 PM
Salalah - Oman
6:00 PM - 10:00 PM
Salalah - Oman
Monday
10:00 AM - 2:00 PM
Salalah - Oman
6:00 PM - 10:00 PM
Salalah - Oman
Tuesday
10:00 AM - 2:00 PM
Salalah - Oman
6:00 PM - 10:00 PM
Salalah - Oman
Wednesday
10:00 AM - 2:00 PM
Salalah - Oman
6:00 PM - 10:00 PM
Salalah - Oman
Thursday
10:00 AM - 2:00 PM
Salalah - Oman
6:00 PM - 10:00 PM
Salalah - Oman
Friday
Saturday
10:00 AM - 2:00 PM
Salalah - Oman
6:00 PM - 10:00 PM
Salalah - Oman