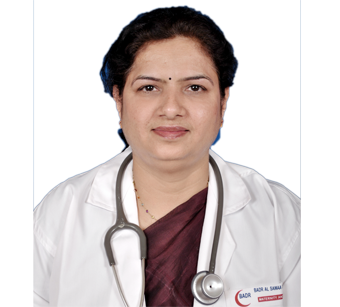 Dr Veena Paliwal
Senior Consultant
Obstetrics & Gynaecology
MBBS, MD, FRCOG (UK)
34 years of experience
Salalah (Oman)
About Dr Veena Paliwal
Dr Veena Paliwal is a highly experienced Senior Consultant in Obstetrics and Gynaecology with more than 31 years of outstanding expertise. She has vast experience in operating for all types of gynaecological cases using various techniques including laparoscopy, hysteroscopy and by conventional method. She has been managing all types of obstetric and gynaecological cases since the last 22 years. She is excellent in managing high risk pregnancies with foetal and maternal complications. She is also an infertility expert with many successful cases to back her. She is very active in teaching and training programs and has presented many papers too.
Excellence & Experience
Area of excellence
High risk obstetrics
Pregnancy with medical disorders
Gynaecologic laparoscopic surgeries
Infertility
Management of gynaecological problems like fibroids, ovarian cyst, infections etc
Level of Experience
Experience of more than 30 years in obstetrics and gynaecology in medical college in India
Working in Oman for 21 years in ministry of health and secondary and secondary cum tertiary hospital managing all types of cases independently teaching ,training and supervising in the department
Paying important role in patient safety and quality improvement in the department and hospital in patient care
Awards & Academics
Academics Details
FRCOG - Fellow of royal college of obstetricians and gynaecologist, London UK - 2014
Diploma in Reproductive Medicine (Kiel, Germany)
Diploma in Gynaecological Endoscopy (Kiel, Germany)
MRCOG - Member of Royal college of Obstetricians and Gynaecologist, London UK - 2003
MD (Doctor of Medicine) - J.N. Medical College, Aligarh Muslim University, Aligarh, India - 1989
MBBS - J.N. Medical College, Aligarh Muslim University, Aligarh, India
Out Patient Timings
The outpatient timings at Badr Al Samaa Hospitals have been planned in such a way that your choice of doctor is available whenever you are free.
Sunday
7:00 PM - 9:00 PM
Salalah - Oman
Monday
Tuesday
Wednesday
7:00 PM - 9:00 PM
Salalah - Oman
Thursday
Friday
Saturday