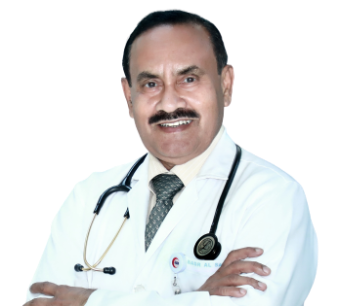 DR Mohammed Kamaluddin
Internist
Internal Medicine
MBBS, DMCH & FP, MRCP
47 years of experience
Sohar (Oman)
About DR Mohammed Kamaluddin
Dr Kamaluddin is an outstanding physician with numerous years of experience under his belt. He has mastered numerous skills over the course of this time period spent working in various countries and hospitals. He can be relied on to provide the right diagnosis and therapy in the most complicated of cases. Aside from taking care of patients with chronic conditions, he is also proficient in handling acute cases and other life-threatening emergencies. He handles cardiac and respiratory emergencies with great skill and expertise. Dr Kamaluddin also attends conferences and CMEs to stay up-to-date.

Excellence & Experience
Area of excellence
Myocardial infarction
Acute coronary syndrome
Acute asthma attack
Severe exacerbation of chronic obstructive pulmonary disease
Diabetic keto-acidosis
Community and hospital acquired pneumonia
Seizures
Poisoning/overdose
Caring for severely ill patients with life-threatening conditions
Level of Experience
Lecturer in Pharmacology - Dhaka Medical College
Registrar Surgery - MITFORD Hospital, Medical Officer, Iran (1977-1981)
Junior & Senior Surgeon, and Asst. Director Training - BAVS, Bangladesh (1981-86)
Medical Officer & Casualty In Charge, then Medical Officer, Junior Specialist
Specialist Medicine - MOH, Oman -1986 - 2008
Specialist Medicine - Al Raffah Hospital, Sohar till 2013
Specialist Internal Medicine - Badr Al Samaa hospital, Sohar - 2013 to date
Awards & Academics
List of awards
Stood 2nd, 3rd, 1st & 2nd in professional MBBS exams in Dhaka University
BANS Top Surgeon, 1983
Secured 1st position in selection for MOH, OMAN 1986
Best Doctor Award twice in MOH, OMAN
Academics Details
MBBS - Mymensingh Medical College securing 2nd position in Dhaka University, Bangladesh - 1974
Diploma (MCH & FP) - NIPSOM, Bangladesh - 1983
MRCP (Internal Medicine) - Ireland - 2008
Out Patient Timings
The outpatient timings at Badr Al Samaa Hospitals have been planned in such a way that your choice of doctor is available whenever you are free.
Sunday
8:00 AM - 1:30 PM
Sohar - Oman
7:30 PM - 10:00 PM
Sohar - Oman
Monday
8:00 AM - 1:30 PM
Sohar - Oman
7:30 PM - 10:00 PM
Sohar - Oman
Tuesday
8:00 AM - 1:30 PM
Sohar - Oman
7:30 PM - 10:00 PM
Sohar - Oman
Wednesday
8:00 AM - 1:30 PM
Sohar - Oman
7:30 PM - 10:00 PM
Sohar - Oman
Thursday
8:00 AM - 1:30 PM
Sohar - Oman
7:30 PM - 10:00 PM
Sohar - Oman
Friday
8:00 AM - 1:30 PM
Sohar - Oman
7:30 PM - 10:00 PM
Sohar - Oman
Saturday