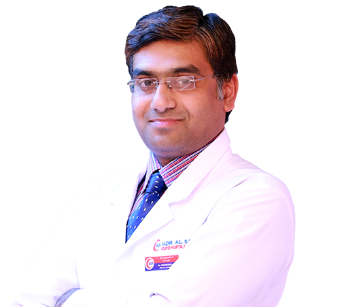 Dr Sreeragh Parameswarath
Dentist
Dentistry
BDS
14 years of experience
Nizwa (Oman)
About Dr Sreeragh Parameswarath
Dr Sreeragh is an experienced General Dentist with 10 years of working experience. He has been offering his excellent services in Badr Al Samaa Group of Hospitals and Medical Centers since 2011 and has rotated through 3 of its branches, bringing them all at par with the latest technologies and standards. Dr Sreeragh excels at restoring damaged teeth and performing Root Canal treatments. He is also skilled in aesthetic dental treatments and smile designing as well as crowns and bridges on his patients. He believes in practicing conservative dentistry, preserving natural teeth as far as possible.

Excellence & Experience
Area of excellence
Cosmetic dental treatments
RCT and restoration of badly damaged teeth
Replacement of missing teeth with ceramic crowns or bridges
Extractions and surgical removal of Impacted and grossly destructed teeth
Level of Experience
One year compulsory rotatory Internship in Amrita School of Dentistry Cochin, Kerala
One year worked in Kuruvila Memorial Multi-speciality Dental Clinic in Kunnamkulam, Trichur, Kerala
One year worked in Tirur Mission Hospitals (Resident Dentist), Tirur, Kerala
Awards & Academics
Academics Details
Bachelor of Dental Surgery - Amrita School of Dentistry, Cochin - 2009
Out Patient Timings
The outpatient timings at Badr Al Samaa Hospitals have been planned in such a way that your choice of doctor is available whenever you are free.
Sunday
9:00 AM - 1:00 PM
Nizwa - Oman
5:00 PM - 9:00 PM
Nizwa - Oman
Monday
9:00 AM - 1:00 PM
Nizwa - Oman
5:00 PM - 9:00 PM
Nizwa - Oman
Tuesday
9:00 AM - 1:00 PM
Nizwa - Oman
5:00 PM - 9:00 PM
Nizwa - Oman
Wednesday
9:00 AM - 1:00 PM
Nizwa - Oman
5:00 PM - 9:00 PM
Nizwa - Oman
Thursday
9:00 AM - 1:00 PM
Nizwa - Oman
5:00 PM - 9:00 PM
Nizwa - Oman
Friday
Saturday
9:00 AM - 1:00 PM
Nizwa - Oman
5:00 PM - 9:00 PM
Nizwa - Oman