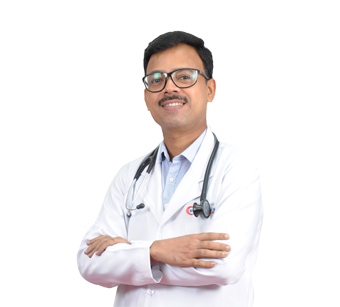 Dr BINISH SREEKUMAR
Specialist Internist
Internal Medicine
MBBS, MD, PG Diploma Diabetology
14 years of experience
Mabella (Oman)
About Dr BINISH SREEKUMAR
Dr Binish Sreekumar is a distinguished Internist who has worked in both the public and private sectors in Kerala, India, before moving to Oman. He has vast experience in the field of General Medicine, both as a clinician and as a teacher. He has a special interest in treating the ever-increasing number of patients with diabetes. His interest in diabetes also saw him procure a PG Diploma in Diabetology from the prestigious Cardiff University, UK. He has been working with Badr Al Samaa Hospitals in Barka since 2009 as an Internist.

Excellence & Experience
Level of Experience
Internist - Government Thaluk Hospital, Thaliparamba, Kerala, India
Internist - EMS Memorial Hospital, Perambra, Kerala, India
Assistant Professor of Medicine – Malabar Medical College, Kerala, India
Badr Al Samaa – Seeb, Oman – 2008
Badr Al Samaa – Barka, Oman - 2009
Awards & Academics
Academics Details
Post Graduate Diploma in Diabetes - Cardiff University, U.K
MBBS, MD (General Medicine) - Government Medical College, Kozhikode - 2006
Out Patient Timings
The outpatient timings at Badr Al Samaa Hospitals have been planned in such a way that your choice of doctor is available whenever you are free.
Sunday
8:00 AM - 1:00 PM
Mabella - Oman
4:00 PM - 8:00 PM
Mabella - Oman
Monday
8:00 AM - 1:00 PM
Mabella - Oman
4:00 PM - 8:00 PM
Mabella - Oman
Tuesday
8:00 AM - 1:00 PM
Mabella - Oman
4:00 PM - 8:00 PM
Mabella - Oman
Wednesday
8:00 AM - 1:00 PM
Mabella - Oman
4:00 PM - 8:00 PM
Mabella - Oman
Thursday
8:00 AM - 1:00 PM
Mabella - Oman
4:00 PM - 8:00 PM
Mabella - Oman
Friday
Saturday
8:00 AM - 1:00 PM
Mabella - Oman
4:00 PM - 8:00 PM
Mabella - Oman