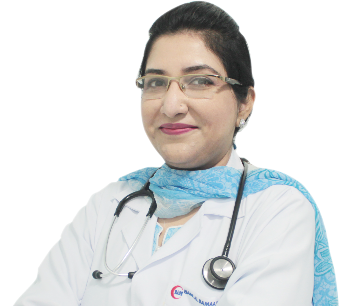 DR Jamila Siddiqui
Specialist Gynaecologist
Obstetrics & Gynaecology
MBBS, FCPS (OBS & GYNAE), MRCOG-I
21 years of experience
Mabella (Oman)
About DR Jamila Siddiqui
Dr. Jamila Siddiqui is well trained and highly qualified Obstetrician & Gynaecologist in her field with special interest in dealing high risk obstetrics, reproductive and infertility and gynecological surgeries including laprotomies as well as minimally invasive surgeries. She is expert in managing normal and assisted vaginal deliveries, complicated caesarean section, provision of Post Partum Care & Family Planning Services & dealing with early pregnancy complications such as recurrent pregnancy loses & ectopic pregnancy as well as treatment of menstrual problem & infection of genital tract. Her continuous services for the betterment of women health are admirable. She is regularly upgrading her skills & knowledge by actively attending conferences & workshops.

Excellence & Experience
Area of excellence
Management of Low & High Risk Pregnancies
Obstetrics & Gynecological Surgeries
Infertility Workup & Management
Contraceptive Management
Management of Adolescent Health Care
Problems of Post & Premenopausal Women
Awards & Academics
Academics Details
MBBS from Allama Iqbal Medial College, Pakistan (2003)
FCPS from College of Physicians &Surgeons, Pakistan (2017)
MRCOG-I from Royal College of Obstetrics &Gynecology, UK (2018)
Certified Training in Obstetrician & Gynaecologist Ultrasound, Pakistan
Out Patient Timings
The outpatient timings at Badr Al Samaa Hospitals have been planned in such a way that your choice of doctor is available whenever you are free.
Sunday
10:00 AM - 2:00 PM
Barka - Oman
6:00 PM - 10:00 PM
Barka - Oman
Monday
10:00 AM - 2:00 PM
Barka - Oman
6:00 PM - 10:00 PM
Barka - Oman
Tuesday
10:00 AM - 2:00 PM
Barka - Oman
Wednesday
10:00 AM - 2:00 PM
Barka - Oman
6:00 PM - 10:00 PM
Barka - Oman
Thursday
10:00 AM - 2:00 PM
Barka - Oman
6:00 PM - 10:00 PM
Barka - Oman
Friday
10:00 AM - 2:00 PM
Barka - Oman
6:00 PM - 10:00 PM
Barka - Oman
Saturday
10:00 AM - 2:00 PM
Barka - Oman