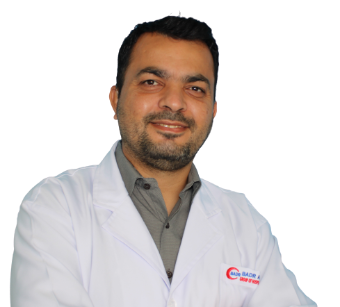 Dr Wajdy Sobhy Jarbou
Radiologist
Radiology
MD, FRCR (2A), Arab & Jordanian Board
15 years of experience
Nizwa (Oman)
About Dr Wajdy Sobhy Jarbou
Dr Wajdy started his work in radiology in early 2008. He completed his residency program in one of the largest imaging centers in Amman, Jordan. He is qualified and registered with The Jordanian Medical Council and Arab board. He is interested in continuous medical education and was involved in the training of young upcoming radiologists. He has vast and varied experience in advanced imaging techniques.

Excellence & Experience
Area of excellence
MRI
Neuro-Radiology
Chest and Cardiovascular Imaging
Doppler Ultrasound
Body Imaging
Musculoskeletal Imaging
Paediatric Imaging
Breast Imaging
Head And Neck Imaging
Awards & Academics
Academics Details
MD, FRCR (2A)
Arab Board Certificate of Radiology
Jordanian Board Certificate of Radiology
Out Patient Timings
The outpatient timings at Badr Al Samaa Hospitals have been planned in such a way that your choice of doctor is available whenever you are free.
Sunday
9:00 AM - 1:00 PM
Duqm - Oman
5:00 PM - 9:00 PM
Duqm - Oman
Monday
9:00 AM - 1:00 PM
Duqm - Oman
5:00 PM - 9:00 PM
Duqm - Oman
Tuesday
9:00 AM - 1:00 PM
Duqm - Oman
5:00 PM - 9:00 PM
Duqm - Oman
Wednesday
9:00 AM - 1:00 PM
Duqm - Oman
5:00 PM - 9:00 PM
Duqm - Oman
Thursday
9:00 AM - 1:00 PM
Duqm - Oman
5:00 PM - 9:00 PM
Duqm - Oman
Friday
Saturday
9:00 AM - 1:00 PM
Duqm - Oman
5:00 PM - 9:00 PM
Duqm - Oman