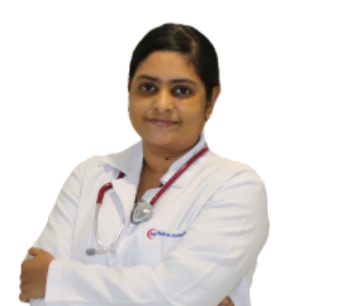 DR Shruti Krishnan
Specialist Internist
Internal Medicine
MD, PG Diploma (Diabetes & Thyroid), MRCP
11 years of experience
Sohar (Oman)
About DR Shruti Krishnan
Dr. Shruti Krishnan  is recognized for her clinical skills and consistently praised for efficient handling of administrative duties that allow other doctors and nursing staff to focus on the health concerns of their patients. She has always demonstrated proficiency in taking patient medical histories and vital signs, as well as in performing various diagnostic and therapeutic procedures. She has helped implement practice's quality assurance and control program. Her efforts ensured compliance with HIPAA, CLIA and OSHA regulations; improved patient care/satisfaction. She always reacts calmly and effectively in emergency situations, and adds the personal, caring touch that immediately put patients to ease.
She is the member of Indian Medical Association and Karnataka Medical Council.

Excellence & Experience
Area of excellence
Endocrinology
Respiratory Medicine
Experienced in treating COVID infection
Level of Experience
She has worked with various tertiary level corporate hospitals in India as consultant and senior registrar.
Awards & Academics
Academics Details
MBBS MS Ramaiah Medical College (2005)
MD (Internal Medicine) Manipal Hospital Bangalore (2012)
PG Diploma in Management of Diabetes and Thyroid Disorders
MRCP
Out Patient Timings
The outpatient timings at Badr Al Samaa Hospitals have been planned in such a way that your choice of doctor is available whenever you are free.
Sunday
9:00 AM - 1:00 PM
Sohar - Oman
5:00 PM - 9:00 PM
Sohar - Oman
Monday
9:00 AM - 1:00 PM
Sohar - Oman
5:00 PM - 9:00 PM
Sohar - Oman
Tuesday
9:00 AM - 1:00 PM
Sohar - Oman
5:00 PM - 9:00 PM
Sohar - Oman
Wednesday
9:00 AM - 1:00 PM
Sohar - Oman
5:00 PM - 9:00 PM
Sohar - Oman
Thursday
9:00 AM - 1:00 PM
Sohar - Oman
5:00 PM - 9:00 PM
Sohar - Oman
Friday
Saturday
9:00 AM - 1:00 PM
Sohar - Oman
5:00 PM - 9:00 PM
Sohar - Oman