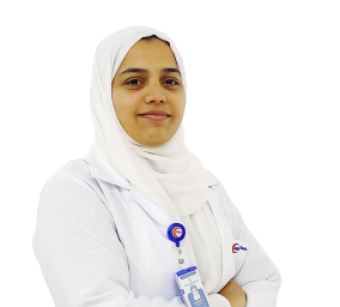 Dr Sathija P K
Specialist Gynaecologist
Obstetrics & Gynaecology
MBBS, MS Obstetrics & Gynecologist
9 years of experience
Mabella (Oman)
About Dr Sathija P K
Dr. SathijaPK is qualified Obstetrician and Gynecologist with good experience,  graduated from the prestigious government institutions, India.  She has trained herself to manage all kind of obstetrics and gynecologist cases with ease in provided situations. She is expert in conducting  vaginal deliveries including instrumental deliveries. She has performed  numerous caesarean sections and major gynecological surgeries independently . With special interest in Gyne-Oncology she conducted more than 350 Colposcopeis, for her Colposcopy study  she was awarded by NAARCHI (National Association for Reproductive and Child Health of India). She used to  conduct various seminars, awareness  classes and attend CMEs on regular basis. She can perform obstetrical & gynecological ultrasounds independently.
Excellence & Experience
Area of excellence
Early pregnancy complication/ recurrent pregnancy loss
High and low risk pregnancy management
Obstetrics Ultrasound
Contraceptive Management
Female Infertility /PCOS
Gynecology cancer screening
Benign and Malignant lesion of uterus and ovaries.
Infections of genito-urinary system
Disorders of menstrual cycles
Adolescent health / Post-menopausal health.
Level of Experience
She has worked as Medical Lady officer in Community Health Center, Amini Island, Lakshadweep. She has undergone post graduate training and Junior residency in the Department of Obstetrics and Gynecology in UCMS & GTB Hospital. She has worked in Obstetrics and Gynecology Dept, IQRAA International Hospital Calicut, India for 2 years. She has also worked as Specialist in Gynecologist & Obstetrics Department with Community Health Center, Amini Island, U T of Lakshadweep, India for 3 years.
Awards & Academics
Academics Details
MBBS, Calicut Medical College, Kerala, India (2010)
MS (Obstetrics & Gynecology), University College of Medical Sciences & Guru Teg Bahadur Hospital, Delhi, India (2016)
Out Patient Timings
The outpatient timings at Badr Al Samaa Hospitals have been planned in such a way that your choice of doctor is available whenever you are free.
Sunday
9:00 AM - 1:00 PM
Mabella - Oman
5:00 PM - 9:00 PM
Mabella - Oman
Monday
9:00 AM - 1:00 PM
Mabella - Oman
5:00 PM - 9:00 PM
Mabella - Oman
Tuesday
9:00 AM - 1:00 PM
Mabella - Oman
5:00 PM - 9:00 PM
Mabella - Oman
Wednesday
9:00 AM - 1:00 PM
Mabella - Oman
5:00 PM - 9:00 PM
Mabella - Oman
Thursday
9:00 AM - 1:00 PM
Mabella - Oman
5:00 PM - 9:00 PM
Mabella - Oman
Friday
Saturday
9:00 AM - 1:00 PM
Mabella - Oman
5:00 PM - 9:00 PM
Mabella - Oman