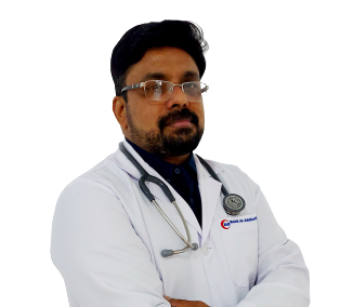 Dr Siddique A P
Specialist Internal Medicine
Internal Medicine
MBBS, MD, Diploma Diabetes
20 years of experience
Mabella (Oman)
About Dr Siddique A P
With deep expertise Dr. Siddique is dedicated to exemplary patient outcome and follows latest updation in medical knowledge. Strong focus to listening to patient, better medical care and educating patients are the main goals. Willingness to work with all members of medical team, listen to their suggestion and input to improve results and maximize patient satisfaction. Experience in emergency medicine and ICU management has given confidence and determination to see ahead. training and educating other medical staffs, bring better result. He is very much interested in metabolic disorders (obesity, diabetes, hypertension, hyperlipeddemia), infectious diseases, endocrine and GI disorders.
He is a member of Indian Medical Association. He has attended various CME and training programs.
Excellence & Experience
Area of excellence
Metabolic Disorders (Obesity, Diabetes, Hypertension, Hyperlipidemia)
Infectious Diseases
Endocrine Disorders
Level of Experience
GI Disorders
Before joining Badr Al Samaa Group of Hopsital he worked as Assistant Professor, Internal Medicine, KMCT Medical College and Associate Professor , Internal Medicine at Malabar Medical College.
Awards & Academics
Academics Details
MBBS, Calicut Medical College, India (2003)
MD, Rajiv Gandhi University of Medical Science, India
Diploma in Diabetes
Diploma Diabetes, Royal College Physicians, UK
Out Patient Timings
The outpatient timings at Badr Al Samaa Hospitals have been planned in such a way that your choice of doctor is available whenever you are free.
Sunday
10:00 AM - 2:00 PM
Mabella - Oman
6:00 PM - 10:00 PM
Mabella - Oman
Monday
10:00 AM - 2:00 PM
Mabella - Oman
6:00 PM - 10:00 PM
Mabella - Oman
Tuesday
10:00 AM - 2:00 PM
Mabella - Oman
6:00 PM - 10:00 PM
Mabella - Oman
Wednesday
10:00 AM - 2:00 PM
Mabella - Oman
6:00 PM - 10:00 PM
Mabella - Oman
Thursday
10:00 AM - 2:00 PM
Mabella - Oman
6:00 PM - 10:00 PM
Mabella - Oman
Friday
Saturday
10:00 AM - 2:00 PM
Mabella - Oman
6:00 PM - 10:00 PM
Mabella - Oman