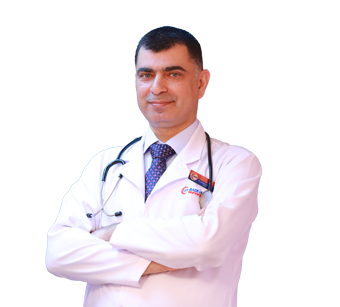 Dr AMMAR ABED YAS
Specialist
Internal Medicine
MBChB, FIBMS
22 years of experience
Nizwa (Oman)
About Dr AMMAR ABED YAS
Dr Ammar Abed Yas brings his specialist experience in Gastroenterology to Badr Al Samaa's Polyclinic at Salalah, Oman. Though he joined as an Internist, he is currently practising as a Consultant Gastroenterologist. His long-drawn-out training program in Iraq has exposed him to a variety of specialties and disease conditions in his chosen field. His areas of interest include upper and lower Endoscopy and Hepatology in addition to internal medicine. He has also attended conferences and workshops in different countries, in addition to CMEs.
Excellence & Experience
Level of Experience
He has worked in multiple General and Teaching hospitals in Iraq in their highly-specialized centres in Gastroenterology and Endoscopy.
He trained from 2001 till 2015 in Iraq.
He joined BADR AL SAMAA Polyclinic in Nizwa, Oman in 2015 as an internist and later got promoted to a Consultant Gastroenterologist in 2017.
Awards & Academics
Academics Details
MB ChB - Al-Anbar University, Iraq - 1999
FIBMS - Fellow of Iraqi Board for Medical Specialization/Internal Medicine - 2006
FIBNS/GH - Fellow of Iraqi Board for Medical Specialization/Gastroenterology and Hepatology - 2013
Consultant in Internal Medicine, MOH, Iraq -2017
Out Patient Timings
The outpatient timings at Badr Al Samaa Hospitals have been planned in such a way that your choice of doctor is available whenever you are free.
Sunday
8:00 AM - 1:00 PM
Salalah - Oman
6:00 PM - 9:00 AM
Salalah - Oman
Monday
8:00 AM - 1:00 PM
Salalah - Oman
6:00 PM - 9:00 AM
Salalah - Oman
Tuesday
8:00 AM - 1:00 PM
Salalah - Oman
6:00 PM - 9:00 AM
Salalah - Oman
Wednesday
8:00 AM - 1:00 PM
Salalah - Oman
6:00 PM - 9:00 AM
Salalah - Oman
Thursday
Friday
8:00 AM - 1:00 PM
Salalah - Oman
6:00 PM - 9:00 AM
Salalah - Oman
Saturday
8:00 AM - 1:00 PM
Salalah - Oman
6:00 PM - 9:00 AM
Salalah - Oman