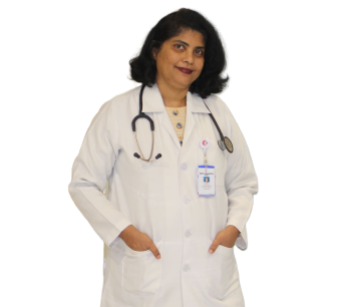 DR RACHEL PRASAD
Medical Officer
General Practice
MBBS
23 years of experience
Salalah (Oman)
About DR RACHEL PRASAD
Dr Rachel Prasad is a General Practitioner working with Badr Al Samaa hospital for over 10 years now. Her area of interest lies in prompt management of emergency cases and emphatic approach to all patients, maintaining the concept of a family doctor system. She believes in upholding the proverb that 'prevention is better than cure' and strives to impact the society with this message. To spread positive energy for physical and social well-being, she has organised many CMEs,  medical camps and medical talks. Being multilingual helps her in catering to a larger population.
Excellence & Experience
Level of Experience
More than 20 years experience in India and Oman. She has organised many medical camps, CMEs, medical talks and classes for various organizations.
Awards & Academics
Academics Details
MBBS - Government Medical College, Guwahati, Assam, India
Out Patient Timings
The outpatient timings at Badr Al Samaa Hospitals have been planned in such a way that your choice of doctor is available whenever you are free.
Sunday
Monday
4:00 PM - 12:00 AM
Salalah - Oman
Tuesday
4:00 PM - 12:00 AM
Salalah - Oman
Wednesday
4:00 PM - 12:00 AM
Salalah - Oman
Thursday
4:00 PM - 12:00 AM
Salalah - Oman
Friday
4:00 PM - 12:00 AM
Salalah - Oman
Saturday
4:00 PM - 12:00 AM
Salalah - Oman