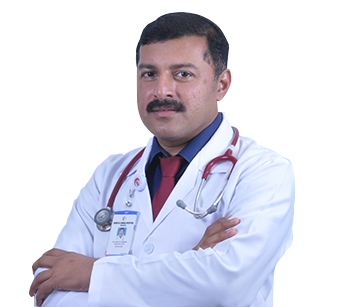 Dr SREEJITH KARIMBIL
ENT Specialist
ENT
MBBS, DLO, DNB, MNAMS
18 years of experience
Salalah (Oman)
About Dr SREEJITH KARIMBIL
Dr Sreejith Karimbil is an energetic, diligent and compassionate doctor with a strong passion for medicine. He is immensely talented in performing various types of minimally invasive surgical procedures that include regular and rare types of cases too. His 14 years of unparalleled experience in the field of otorhinolaryngology brings solace to numerous patients in Salalah. He is an expert in performing numerous types of delicate surgeries with utmost precision. Dr Sreejith keeps abreast with the latest treatment modalities in his field by attending several national and international level conferences and workshops.
Excellence & Experience
Area of excellence
Pediatric and adult Otorhinolaryngology
Problems related to head and neck region
Allergy and asthma
Upper respiratory tract infections
Nasal and nasopharyngeal pathologies
Polyposis and sinus conditions
Vertigo and its rehabilitation
Other ear conditions and voice-related problems
Direct laryngoscopy and Oesophagoscopy
Surgeries including Tonsillectomy, Adenoidectomy, Myringotomy, Grommet insertion, Myringoplasty, Mastoidectomy, Septoplasty, Turbinoplasty, Microlaryngeal Surgery and other Endoscopic surgeries.
Level of Experience
Resident ENT – Calicut Medical College – 2004 - 2008
Senior lecturer/Assistant Professor - ENT, Pariyaram Medical College, Kannur, Kerala – 2008 - 2014
ENT Specialist – Badr Al Samaa Hospital, Salalah – 2014 to date.
Awards & Academics
List of awards
Gold medal in DLO Examination
Academics Details
MBBS: Calicut Medical College - 2012
DLO: Calicut Medical College - 2014
DNB: National Board of Examinations – Calicut Medical College - 2008
Out Patient Timings
The outpatient timings at Badr Al Samaa Hospitals have been planned in such a way that your choice of doctor is available whenever you are free.
Sunday
9:00 AM - 1:00 PM
Salalah - Oman
5:00 PM - 9:00 PM
Salalah - Oman
Monday
9:00 AM - 1:00 PM
Salalah - Oman
5:00 PM - 9:00 PM
Salalah - Oman
Tuesday
9:00 AM - 1:00 PM
Salalah - Oman
5:00 PM - 9:00 PM
Salalah - Oman
Wednesday
9:00 AM - 1:00 PM
Salalah - Oman
5:00 PM - 9:00 PM
Salalah - Oman
Thursday
9:00 AM - 1:00 PM
Salalah - Oman
5:00 PM - 9:00 PM
Salalah - Oman
Friday
Saturday
9:00 AM - 1:00 PM
Salalah - Oman
5:00 PM - 9:00 PM
Salalah - Oman