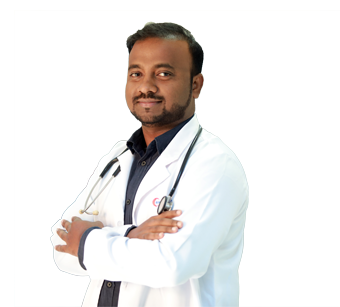 DR Prasanna M
Specialist
Radiology
MBBS, DMRD
Salalah (Oman)
About DR Prasanna M
Dr Prasanna is an excellent Specialist in Diagnostic Radiology. Apart from routine X-rays, Ultrasound, CT and MRI, he has undergone training in Neuro-radiology, musculoskeletal & cardiac radiology in a highly specialized tertiary-care centre. He believes in continuing education and has had further training in Emergency radiology and Teleradiology solutions in Bangalore as well as in Non-vascular interventional procedures. He has also had training in Obstetric ultrasound and general ultrasound procedures by CIMED, Argentina. Dr Prasanna is a highly knowledgeable Radiologist and attends CMEs and conferences regularly and has presented papers there as well.
Excellence & Experience
Area of excellence
Neuro-radiology
Cardiac Radiology
Obstetric & general ultrasound
Ultrasound-guided interventions
Level of Experience
Worked in corporate hospitals in Kerala and Tamil Nadu, India
Awards & Academics
List of awards
Got awards in various CMEs and conferences, including CERTIFICATE OF MERIT WINNER of Radiological Society of North America (RSNA), 2014
Academics Details
MBBS – Government Mohan Kumaramangalam Medical College, Salem, India
DMRD – Government Medical College, Trivandrum, India
DNB – Sri Sathya Sai Institute of Higher Medical Sciences, Bangalore, India
Out Patient Timings
The outpatient timings at Badr Al Samaa Hospitals have been planned in such a way that your choice of doctor is available whenever you are free.
Sunday
9:30 AM - 1:30 PM
Sohar - Oman
5:30 PM - 9:30 PM
Sohar - Oman
Monday
9:30 AM - 1:30 PM
Sohar - Oman
5:30 PM - 9:30 PM
Sohar - Oman
Tuesday
9:30 AM - 1:30 PM
Sohar - Oman
5:30 PM - 9:30 PM
Sohar - Oman
Wednesday
9:30 AM - 1:30 PM
Sohar - Oman
5:30 PM - 9:30 PM
Sohar - Oman
Thursday
9:30 AM - 1:30 PM
Sohar - Oman
5:30 PM - 9:30 PM
Sohar - Oman
Friday
Saturday
9:30 AM - 1:30 PM
Sohar - Oman
5:30 PM - 9:30 PM
Sohar - Oman