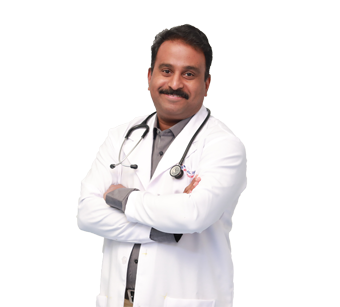 DR Ajay PV
Specialist Orthopaedic Surgeon
Orthopaedics
MBBS, MS (ORTHO)
16 years of experience
Al Khuwair (Oman)
About DR Ajay PV
Dr Ajay is an excellent Specialist Orthopaedic Surgeon with over 12 years experience of outstanding experience which he brings to Badr Al Samaa hospital. His area of special interests lies in arthroplasty and arthroscopic surgeries for shoulder and knee pathologies. He has performed numerous minimally invasive surgeries for sports injuries, trauma as well as in joint replacements. He is also an expert in management of degenerative diseases, multi-ligament surgeries, ACL and meniscal tears, surgeries for deformities, etc. Dr Ajay also believes in staying abreast with the latest developments in his field and attends conferences and CMEs regularly.  

Excellence & Experience
Area of excellence
Sports surgeries
Arthroscopic procedures for shoulder and knees 
Revision Arthroscopic procedures
Multi-ligament surgeries
Trauma orthopaedic surgeries 
Joint replacement procedures for shoulders and knees
Level of Experience
Specialist Orthopaedic Surgeon with over 12 years experience
Awards & Academics
Academics Details
MBBS - Vinayaka Missiona Medical College - 2001
MS (Orthopaedics) – DR.B.R. Ambedkar Medical College - 2007
MCH – American Institute of Medicine, University of Seychelles - 2016
Out Patient Timings
The outpatient timings at Badr Al Samaa Hospitals have been planned in such a way that your choice of doctor is available whenever you are free.
Sunday
9:00 AM - 1:00 PM
Mabella - Oman
5:00 PM - 9:00 PM
Mabella - Oman
Monday
9:00 AM - 1:00 PM
Mabella - Oman
5:00 PM - 9:00 PM
Mabella - Oman
Tuesday
9:00 AM - 1:00 PM
Mabella - Oman
5:00 PM - 9:00 PM
Mabella - Oman
Wednesday
9:00 AM - 1:00 PM
Mabella - Oman
5:00 PM - 9:00 PM
Mabella - Oman
Thursday
9:00 AM - 1:00 PM
Mabella - Oman
5:00 PM - 9:00 PM
Mabella - Oman
Friday
Saturday
9:00 AM - 1:00 PM
Mabella - Oman
5:00 PM - 9:00 PM
Mabella - Oman