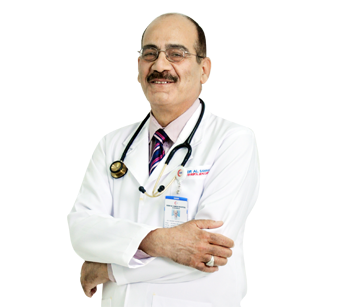 Dr Haider Y Ahmed
Specialist Internist
Internal Medicine
MBChB, DM, PGD
37 years of experience
Al Khuwair (Oman)
About Dr Haider Y Ahmed
Dr Haider Y Ahmed is a highly accomplished Specialist in Internal medicine with a vast treasure trove of work and training experience to back him. He has worked in a number of hospitals which have afforded him excellent experience in the management of a variety of disease conditions, both in the acute and chronic stages. His area of special interest in which he also excels, is in the management of diabetes and its complications. Aside from this, he is excellent in caring for acute, critical and trauma patients in the Emergency section of the hospital. 

Excellence & Experience
Area of excellence
Acute respiratory diseases
Diabetes and its complications
Fevers of Unknown Origin
Hypertension
Emergency care
Level of Experience
Badr Al Samaa Group
Basrah Teaching Hospital
Kufa General Hospital
Shatrah General Hospital
Nassiriya General Hospital
Al Basat Clinic Oman
Awards & Academics
Academics Details
FID (Diabetes) - Royal Liverpool Academy - 2018
MSc (Diabetes) – Cardiff University - 2016
DM (Diabetes) - Leicester University - 2014
DM (Medicine) - Kufa University - 1997
MB.ChB - Basra University - 1986
Videos of DR Haider Y Ahmed
You can get to know more details here about the doctor who will be treating you, and their professional expertise in their field of specialisation.
Out Patient Timings
The outpatient timings at Badr Al Samaa Hospitals have been planned in such a way that your choice of doctor is available whenever you are free.
Sunday
9:00 AM - 1:00 PM
Al Khuwair - Oman
5:00 PM - 9:00 PM
Al Khuwair - Oman
Monday
9:00 AM - 1:00 PM
Al Khuwair - Oman
5:00 PM - 9:00 PM
Al Khuwair - Oman
Tuesday
9:00 AM - 1:00 PM
Al Khuwair - Oman
5:00 PM - 9:00 PM
Al Khuwair - Oman
Wednesday
9:00 AM - 1:00 PM
Al Khuwair - Oman
5:00 PM - 9:00 PM
Al Khuwair - Oman
Thursday
9:00 AM - 1:00 PM
Al Khuwair - Oman
5:00 PM - 9:00 PM
Al Khuwair - Oman
Friday
Saturday
9:00 AM - 1:00 PM
Al Khuwair - Oman
5:00 PM - 9:00 PM
Al Khuwair - Oman