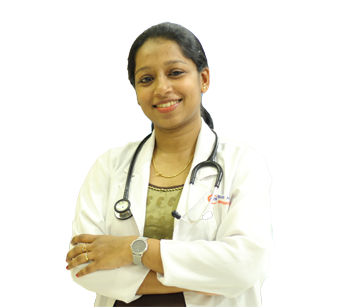 Dr CERENE ROSE JOSE
General Practitioner
General Practice
MBBS
16 years of experience
Al Khoud (Oman)
About Dr CERENE ROSE JOSE
Dr Cerene Rose Jose acquired comparable skills and knowledge in the different specialties of Medicine during her work in Kerala, India. She has excellent knowledge in cases dealing with patients in the Department of Internal Medicine and has expertise diagnosing Communicable diseases, Management of Lifestyle diseases, Diagnosis, and management of common Medical, Surgical, Psychiatric, and Orthopaedic cases. She is also skilled in IV Access, administration of Parenteral medications and in minor surgical procedures like Incision and Drainage, Suturing of Injuries and Diabetic Foot management.
Excellence & Experience
Area of excellence
Internal Medicine
Paediatrics
Dermatology
Psychiatry
Surgery
Gynaecology and Obstetrics
Community Medicine
Otolaryngology
Ophthalmology and Orthopaedics
General Medicine and counselling departments
Level of Experience
Compulsory Residential Internship, Pushpagiri Medical College, Thiruvalla, Kerala - 2009
Resident Medical Officer - Sneha Primary Care, Thiruvananthapuram – 2009 to 2011
Senior Resident - ESI Hospital, Parippally, Kollam, Kerala – 2011 to 2012
Awards & Academics
Academics Details
MBBS - Mahatma Gandhi University, Kottayam, Kerala - 2009
Out Patient Timings
The outpatient timings at Badr Al Samaa Hospitals have been planned in such a way that your choice of doctor is available whenever you are free.
Sunday
4:00 AM - 12:00 AM
Al Khoud - Oman
Monday
4:00 PM - 12:00 AM
Al Khoud - Oman
Tuesday
4:00 PM - 12:00 AM
Al Khoud - Oman
Wednesday
4:00 PM - 12:00 AM
Al Khoud - Oman
Thursday
4:00 PM - 12:00 AM
Al Khoud - Oman
Friday
4:00 PM - 12:00 AM
Al Khoud - Oman
Saturday
4:00 PM - 12:00 AM
Al Khoud - Oman