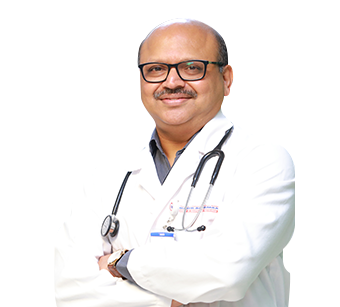 DR Deepak Sreedharan
Specialist General Surgeon
General & Laparoscopic Surgery
MS, MRCS (London), DMAS (Strasbourg University), DMAS (Germany)
23 years of experience
Ruwi (Oman)
About DR Deepak Sreedharan
Dr Deepak Sreedharan is a Specialist General and Laparoscopic Surgeon of great repute and has been part of the hospital right from its inception in 2002. He has had extensive training in Laparoscopic Surgery and in surgical oncology and he has used these skills to perform more than 7000 surgeries in Badr Al Samaa Group of Hospitals and Medical Centres. A majority of these were laparoscopic surgeries. Aside from laparoscopic surgery, he also performs all elective and emergency general surgical procedures. He has keen interest in bettering his professional skills and attends workshops and conferences in Oman and Abroad.
Excellence & Experience
Area of excellence
Laparoscopic surgery of Gall Bladder and all types of Hernia including ventral hernias
Level of Experience
Training in Laparoscopic Surgery from Jaslok Hospital, Mumbai
Training in Surgical oncology from Adayar Cancer Institute, Chennai
Awards & Academics
Academics Details
MBBS- Medical College, Calicut - 1993
MS (General Surgeon) - Medical College, Calicut - 1998
MECS - Royal College of Physicians and Surgeons of England - 2012
Diploma: Minimal Access Surgery - University of Strasbourg, France - 2012
Diploma: Minimal Access Surgery - German Board of Medical Doctors - 2014
Out Patient Timings
The outpatient timings at Badr Al Samaa Hospitals have been planned in such a way that your choice of doctor is available whenever you are free.
Sunday
9:00 AM - 1:00 PM
Ruwi - Oman
4:30 PM - 8:30 PM
Ruwi - Oman
Monday
9:00 AM - 1:00 PM
Ruwi - Oman
4:30 PM - 8:30 AM
Ruwi - Oman
Tuesday
9:00 AM - 1:00 PM
Ruwi - Oman
4:30 PM - 8:30 PM
Ruwi - Oman
Wednesday
9:00 AM - 1:00 PM
Ruwi - Oman
4:30 PM - 8:30 PM
Ruwi - Oman
Thursday
9:00 AM - 1:00 PM
Ruwi - Oman
4:30 PM - 8:30 PM
Ruwi - Oman
Friday
9:00 AM - 1:00 PM
Ruwi - Oman
4:30 PM - 8:30 PM
Ruwi - Oman
Saturday