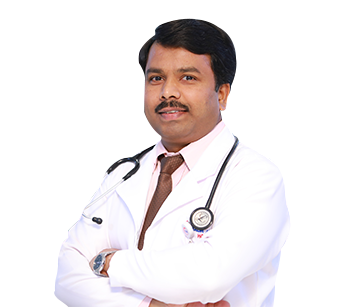 Dr Nagaraju G B
Specialist Cardiologist
Cardiology
MBBS, PGDCC
15 years of experience
Ruwi (Oman)
About Dr Nagaraju G B
Dr Nagaraju is a Specialist Cardiologist with vast experience in treating and stabilizing all types of cardiac emergencies including Acute Myocardial Infarction (Heart Attacks) and Heart Failure. His training and work experience in some of the premier cardiology institutes in India has ensured his exposure to a variety of cardiac conditions including Systemic Hypertension, Valvular heart disease, Congenital heart diseases, Screening of high-risk patients for Coronary Heart disease, Reading ECG's, performing adult Echocardiogram, Exercise stress test, 24 Hours Holter monitoring, HUTT and medical stabilization of all types of Cardiac Emergencies. He has also conducted free cardiac camps in remote villages.
Excellence & Experience
Area of excellence
Screening of high-risk patients in unmasking the occult Coronary artery disease by Exercise Stress Test and Echocardiogram
Medical Stabilization of Acute Myocardial Infarction and Heart Failure patients
Cardiac Evaluation of patients who present with Chest Pain, diagnosis and treatment
Valvular heart disease
Management of all cardiac emergencies
Hyperlipidaemia
Treatment of Systemic Hypertension
Level of Experience
He worked in various Medical College Hospitals and Corporate Hospitals in Karnataka and Kerala, India
Non-Interventional Cardiologist and CCU In-charge - M. S. Ramaiah Narayana Hrudayalaya Heart Centre, Karnataka - 2008 to 2013
Awards & Academics
Academics Details
PGDCC (Post Graduate Diploma in Clinical Cardiology) - M.S. Ramaiah Narayana Hrudayalaya Heart Centre, Bangalore, India - 2008
MBBS - Government Medical College (VIMS), Bellary - 1999
Out Patient Timings
The outpatient timings at Badr Al Samaa Hospitals have been planned in such a way that your choice of doctor is available whenever you are free.
Sunday
9:00 AM - 1:00 PM
Ruwi - Oman
5:00 PM - 9:00 PM
Ruwi - Oman
Monday
9:00 AM - 1:00 PM
Ruwi - Oman
5:00 PM - 9:00 PM
Ruwi - Oman
Tuesday
9:00 AM - 1:00 PM
Ruwi - Oman
5:00 PM - 9:00 PM
Ruwi - Oman
Wednesday
9:00 AM - 1:00 PM
Ruwi - Oman
5:00 PM - 9:00 PM
Ruwi - Oman
Thursday
9:00 AM - 1:00 PM
Ruwi - Oman
5:00 PM - 9:00 PM
Ruwi - Oman
Friday
9:00 AM - 1:00 PM
Ruwi - Oman
5:00 PM - 9:00 PM
Ruwi - Oman
Saturday
9:00 AM - 1:00 PM
Ruwi - Oman
5:00 PM - 9:00 PM
Ruwi - Oman