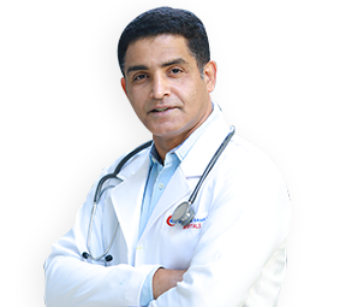 DR Ranjan Babu
Specialist
Orthopaedics
MBBS ,MS(Ortho), MCH(Ortho), Fellow (Arthroscopy, AIIMS-NewDelhi, CCRJD)
28 years of experience
Ruwi (Oman)
About DR Ranjan Babu
Dr Ranjan Babu is an excellent Specialist Orthopaedic Surgeon with a lot of surgical experience garnered over the years. He has been practising orthopaedics in Oman since 2004 and has performed a number of Trauma and Arthroscopic surgeries, Arthroscopic ACL reconstructions and Meniscectomies, Fixation of long bone fractures, Bipolar Hemiarthroplasties and fixation of intra-articular fractures. He has also assisted in a number of Total knee and hip arthroplasties, shoulder and ankle arthroscopies. He has recently updated his training with courses in arthroscopy and rheumatology and joint disorders. Dr Babu also attends conferences and CMEs to keep himself updated.
Excellence & Experience
Area of excellence
Arthroscopic Knee surgeries
Complex trauma
Intra-articular fracture reconstruction
Closed long bone fixation
Level of Experience
Practicing in Oman since 2004
Awards & Academics
Academics Details
MBBS - Karnataka Institute of Medical Sciences (Govt. medical college) Hubli - 1994
MS (Orthopaedics) - Vijayanagara Institute of Medical Sciences, Bellary, Karnataka - 1998
Mch (Orth) - University of Syechelles -American Institute of Medicine -2012
Certification course - Rheumatology and Joint disorder (CCRJD) - 2013
Short term Arthroscopy fellowship from AIIMS, New Delhi -2014
Videos of DR Ranjan Babu
You can get to know more details here about the doctor who will be treating you, and their professional expertise in their field of specialisation.
Out Patient Timings
The outpatient timings at Badr Al Samaa Hospitals have been planned in such a way that your choice of doctor is available whenever you are free.
Sunday
8:00 AM - 4:00 PM
Ruwi - Oman
Monday
8:00 AM - 4:00 PM
Ruwi - Oman
Tuesday
8:00 AM - 4:00 PM
Ruwi - Oman
Wednesday
8:00 AM - 4:00 PM
Ruwi - Oman
Thursday
8:00 AM - 4:00 PM
Ruwi - Oman
Friday
Saturday
8:00 AM - 4:00 PM
Ruwi - Oman