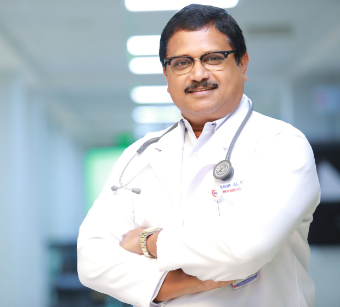 Dr Ravi Perumal
Specialist Internal Medicine
Internal Medicine
MD (Internal Med), PG Diploma Diabetes (Cardiff-UK)
23 years of experience
Ruwi (Oman)
About Dr Ravi Perumal
Dr Ravi Perumal is a Specialist in Internal Medicine with vast experience in treating acute medical emergencies, chronic medical illnesses like diabetes mellitus, hypertension and bronchial asthma. He has an additional qualification in diabetes mellitus in which he has great interest and is an expert in its management. He attends to OP, IP as well as ICU patients. He is also proficient in managing acute medical emergencies. He practices a number of minor IP procedures such as pleural tapping and intercostal drainage with great skill. He conducts awareness programs and delivers scientific lectures. He also attends international conferences regularly.
Excellence & Experience
Area of excellence
Management of Diabetes Mellitus in pregnancy
Acute medical emergencies
Central venous line monitoring
Pleural tapping
Intercostal drainage
Level of Experience
Senior physician in Badr Al Samaa Hospital since 2005
Has worked in multi-specialty Hospitals in India with Intensive care facility
Awards & Academics
Academics Details
PGDD- Post graduate diploma in Diabetology – Cardiff University, UK- 2016
MD (Internal Medicine) – Madurai Medical College – DR. MGR Medical University, Madurai - 2001
DCH – Diploma in Child Health – Madras Medical College, Dr. MGR Medical University - 1995
Out Patient Timings
The outpatient timings at Badr Al Samaa Hospitals have been planned in such a way that your choice of doctor is available whenever you are free.
Sunday
9:00 AM - 1:00 PM
Ruwi - Oman
5:00 PM - 9:00 PM
Ruwi - Oman
Monday
9:00 AM - 1:00 PM
Ruwi - Oman
5:00 PM - 9:00 PM
Ruwi - Oman
Tuesday
9:00 AM - 1:00 PM
Ruwi - Oman
5:00 PM - 9:00 PM
Ruwi - Oman
Wednesday
9:00 AM - 1:00 PM
Ruwi - Oman
5:00 PM - 9:00 PM
Ruwi - Oman
Thursday
Friday
9:00 AM - 1:00 PM
Ruwi - Oman
5:00 PM - 9:00 PM
Ruwi - Oman
Saturday
9:00 AM - 1:00 PM
Ruwi - Oman
5:00 PM - 9:00 PM
Ruwi - Oman