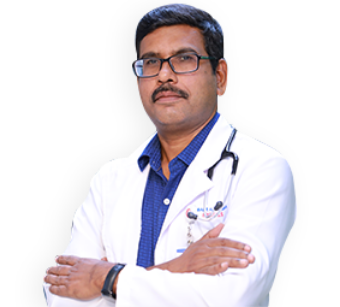 DR Shaji Abraham
Neurology Super Specialist
Neurology
MD(Med), DNB(Med), DM(Neuro)
20 years of experience
Ruwi (Oman)
About DR Shaji Abraham
Dr Shaji Abraham is a Specialist Neurologist with vast amount of expertise garnered during his training as well as his long tenure working in a tertiary medical college in India. He has extensive experience in diagnosing and treating various acute and chronic neurological disease conditions including different types of headaches, chronic pain, peripheral neuropathies, movement problems, seizures, stroke, etc. He is an expert in handling out-patients and in-patients as well as managing the ICU patients with neurological disorders. He has attended several National and International conferences and made original paper presentations of repute.
Excellence & Experience
Area of excellence
Stroke
Epilepsy
Headaches
Migraines
Peripheral Nerve and muscle disorders
Electrophysiology
Level of Experience
Senior lecturer – Dept of Neurology, Govt medical College, Thrissur, India – 2003-2008
Associate Professor & HOD – Dept of Neurology, Govt Medical College, Thrissur, India - 2014
Awards & Academics
Academics Details
MBBS - Government Medical College, Kozhikode, India
MD (Internal Medicine) - Government Medical College, Kozhikode, India
DM Neurology - National institute of Mental Health and Neurosciences, (NIMHANS) Bangalore, India
Diplomate of National Board (DNB) in Internal Medicine - National Board of Examinations, Ministry of Health & Family Welfare, India
Out Patient Timings
The outpatient timings at Badr Al Samaa Hospitals have been planned in such a way that your choice of doctor is available whenever you are free.
Sunday
9:00 AM - 1:00 PM
Ruwi - Oman
5:00 PM - 9:00 PM
Ruwi - Oman
Monday
9:00 AM - 1:00 PM
Ruwi - Oman
5:00 PM - 9:00 PM
Ruwi - Oman
Tuesday
9:00 AM - 1:00 PM
Ruwi - Oman
5:00 PM - 9:00 PM
Ruwi - Oman
Wednesday
9:00 AM - 1:00 PM
Ruwi - Oman
5:00 PM - 9:00 PM
Ruwi - Oman
Thursday
9:00 AM - 1:00 PM
Ruwi - Oman
5:00 PM - 9:00 PM
Ruwi - Oman
Friday
Saturday
9:00 AM - 1:00 PM
Ruwi - Oman
5:00 PM - 9:00 PM
Ruwi - Oman