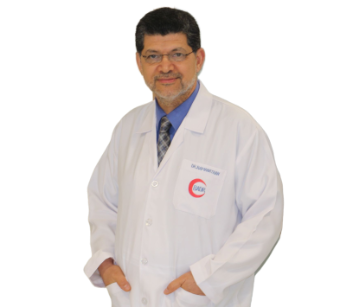 DR Ammar Al Azawi
Consultant
Orthopaedics
MBChB , FRCS
36 years of experience
Salalah (Oman)
About DR Ammar Al Azawi
Dr Ammar Al Azzawi is a brilliant Consultant Orthopaedic Surgeon with over 32 years of outstanding work experience. He has worked and trained in a number of European and Arab countries and gained excellent surgical skills along the way. He brings this vast reassure trove of experience to Badr Al Samaa hospital where he has performed numerous joint replacement surgeries, multi-ligament surgeries, minimally invasive surgeries for ACL and meniscal tears. His dynamic skills can also be seen in the management of degenerative diseases, deformities as well as cases of trauma injuries. He also attends conferences and workshops around the world.
Excellence & Experience
Area of excellence
Sport medicine
Paediatric orthopaedics
General orthopaedic surgeries
Spine surgeries
Arthroscopic procedures for shoulder instability
Arthroscopic procedures for knee (simple and complex ligament surgeries)
Multi-ligament surgeries
Trauma surgeries for shoulders and knees
Level of Experience
Working in orthopaedic since graduation in 1987 in different countries
Iraq - Ireland - UK - Yemen - Oman
Training courses in Germany, Holland and UK for ACL and Arthroscopy
Training course in Turkey for Diploma in Sports medicine
Awards & Academics
Academics Details
Diploma (Sports medicine) - 2015
FRCS - Ireland - 1999
MBChB - Baghdad - 1987
Out Patient Timings
The outpatient timings at Badr Al Samaa Hospitals have been planned in such a way that your choice of doctor is available whenever you are free.
Sunday
9:30 AM - 10:30 PM
Salalah - Oman
6:00 PM - 8:00 PM
Salalah - Oman
Monday
10:00 AM - 12:00 PM
Salalah - Oman
5:30 PM - 8:30 PM
Salalah - Oman
Tuesday
9:30 AM - 11:30 PM
Salalah - Oman
6:00 PM - 8:00 PM
Salalah - Oman
Wednesday
6:00 PM - 8:00 PM
Salalah - Oman
Thursday
10:00 AM - 12:00 PM
Salalah - Oman
5:30 PM - 8:30 PM
Salalah - Oman
Friday
Saturday
10:00 AM - 12:00 PM
Salalah - Oman
6:00 PM - 8:00 PM
Salalah - Oman