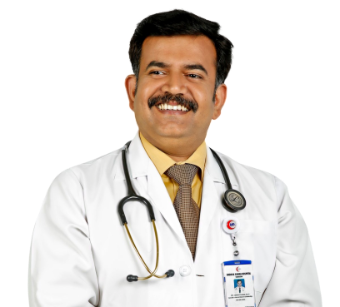 Dr Anish Kumar
Specialist
Internal Medicine
MBBS, MD, MRCP (UK), PGDD (Cardiff)
21 years of experience
Salalah (Oman)
About Dr Anish Kumar
Dr M P Anishkumar is a highly dedicated Specialist in the field of Internal Medicine with more than 17 years of outstanding experience. He has gained excellent skills during his work stints in several premier hospitals in India including JIPMER and Medical College Calicut and Medical College Trivandrum. He has been working in Oman since 2004 with MOH before moving on to Badr al Samaa Hospital. He is highly skilled in managing outpatients as well as complex in-patient ailments including Cardiac, respiratory, Rheumatology, Infectious diseases and diabetes in which has special interest. He also attends conferences and workshops regularly.
Excellence & Experience
Area of excellence
Managing complications of Diabetes
Management of Hypertension
Cerebrovascualr disorders
Uncomplicated coronary heart disease
Respiratory conditions and Pneumonia
Liver and Gastrointestinal diseases
Emergency and critical care
Level of Experience
More than 17 years of experience in the field of Internal medicine and has worked in several private hospitals in India and in the Ministry of health, Sultanate of Oman.
Well experienced in the management of infectious diseases, respiratory diseases like Bronchial asthma, Liver and Gastrointestinal diseases, uncomplicated Kidney diseases and endocrine diseases like Diabetes and Thyroid disorders.
Awards & Academics
Academics Details
Post Graduate diploma (Diabetes Mellitus) - Cardiff University
MRCP [UK] - Member of the Royal College of Physicians of United Kingdom
MD (Internal medicine) - Govt Stanley Medical College, Chennai
MBBS - Govt medical college, Calicut
Out Patient Timings
The outpatient timings at Badr Al Samaa Hospitals have been planned in such a way that your choice of doctor is available whenever you are free.
Sunday
9:00 AM - 1:00 PM
Salalah - Oman
5:00 PM - 9:00 PM
Salalah - Oman
Monday
9:00 AM - 1:00 PM
Salalah - Oman
5:00 PM - 9:00 PM
Salalah - Oman
Tuesday
9:00 AM - 1:00 PM
Salalah - Oman
5:00 PM - 9:00 PM
Salalah - Oman
Wednesday
9:00 AM - 1:00 PM
Salalah - Oman
5:00 PM - 9:00 PM
Salalah - Oman
Thursday
9:00 AM - 1:00 PM
Salalah - Oman
5:00 PM - 9:00 PM
Salalah - Oman
Friday
Saturday
9:00 AM - 1:00 PM
Salalah - Oman
5:00 PM - 9:00 PM
Salalah - Oman