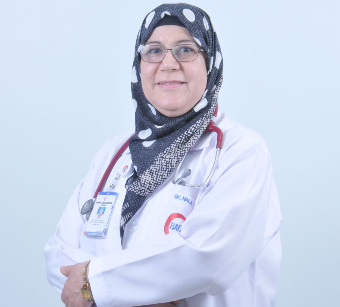 Dr Nada Sulaiman Hussein
Specialist
Obstetrics & Gynaecology
MBChB, DGO
19 years of experience
Salalah (Oman)
About Dr Nada Sulaiman Hussein
Dr Nada Suleiman Hussein is a dynamic Specialist in Obstetrics and Gynaecology with 15 years of excellent experience. She is very efficient in performing the simplest procedures to more complicated surgical interventions. She aims to provide patient-centric medical care with tailored medical decisions for the best possible outcomes. She is very passionate about patient-centred antenatal care, high risk pregnancies and providing painless labour. Apart from this, she also provides postnatal care as well as performs highly skilled obstetric and gynaecological procedures. She is experienced in managing infertility cases too with many success stories to back her.
Excellence & Experience
Area of excellence
High risk obstetric
Obstetric medicine
Painless labour
Abnormal uterine bleeding
Endocrine problems in Gynaecology like PCOD
Vaginal discharge and infection
Colposcopy
Level of Experience
Dr Nada Sulaiman Hussein has worked in various corporate hospitals in Iraq and Oman.
Awards & Academics
Academics Details
DGO – Al Mustansiryia University, Baghdad, Iraq
MBChB – Baghdad University, Iraq
Out Patient Timings
The outpatient timings at Badr Al Samaa Hospitals have been planned in such a way that your choice of doctor is available whenever you are free.
Sunday
9:00 AM - 1:00 PM
Salalah - Oman
5:00 PM - 9:00 PM
Salalah - Oman
Monday
9:00 AM - 1:00 PM
Salalah - Oman
5:00 PM - 9:00 PM
Salalah - Oman
Tuesday
9:00 AM - 1:00 PM
Salalah - Oman
5:00 PM - 9:00 PM
Salalah - Oman
Wednesday
9:00 AM - 1:00 PM
Salalah - Oman
5:00 PM - 9:00 PM
Salalah - Oman
Thursday
9:00 AM - 1:00 PM
Salalah - Oman
5:00 PM - 9:00 PM
Salalah - Oman
Friday
Saturday
9:00 AM - 1:00 PM
Salalah - Oman
5:00 PM - 9:00 PM
Salalah - Oman