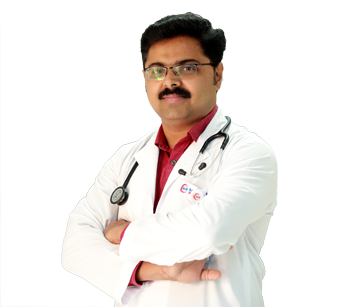 Dr Sajeev Kumar
Specialist Internist
Internal Medicine
MBBS, MD, MRCP (UK), PGDD (Cardiff University)
Sohar (Oman)
About Dr Sajeev Kumar
Dr Sajeev Kumar P is a specialist internist with 17 years of experience in various hospitals in India and Oman. Apart from seeing outpatients on a daily basis, manages inpatients also with acute illnesses like fever due to various causes, pneumonia etc and chronic illnesses like diabetes, bronchial asthma, hypertension, liver and kidney diseases. He is actively involved in academic activities like CME's and various training programs. He is life member of Indian Medical Association. He regularly undergoes training in basic life support and advanced cardiac life support every 2 years.
Excellence & Experience
Area of excellence
Overall management of diabetes mellitus
Respiratory diseases like bronchial asthma and COPD
Level of Experience
He has more than 25 years of experience in medical profession. He has worked in St Vincents Hospital, India and NIMS, Trivandrum, India before joining Badr Al Samaa Group.
Awards & Academics
Academics Details
MBBS, Medical College, Trivandum, Kerala, India (1995)
MD (Internal Medicine), M P Shah Government Medical College, Jam Nagar, India (2003)
MRCP (UK ), Royal College of Physicians, London (2014)
Post Graduate Diploma in Diabetes (PGDD), Cardiff University, UK (2015)
Out Patient Timings
The outpatient timings at Badr Al Samaa Hospitals have been planned in such a way that your choice of doctor is available whenever you are free.
Sunday
9:00 AM - 1:00 PM
Sohar - Oman
5:00 PM - 9:00 PM
Sohar - Oman
Monday
9:00 AM - 1:00 PM
Sohar - Oman
5:00 PM - 9:00 PM
Sohar - Oman
Tuesday
9:00 AM - 1:00 PM
Sohar - Oman
5:00 PM - 9:00 PM
Sohar - Oman
Wednesday
9:00 AM - 1:00 PM
Sohar - Oman
5:00 PM - 9:00 PM
Sohar - Oman
Thursday
9:00 AM - 1:00 PM
Sohar - Oman
5:00 PM - 9:00 PM
Sohar - Oman
Friday
Saturday
9:00 AM - 1:00 PM
Sohar - Oman
5:00 PM - 9:00 PM
Sohar - Oman