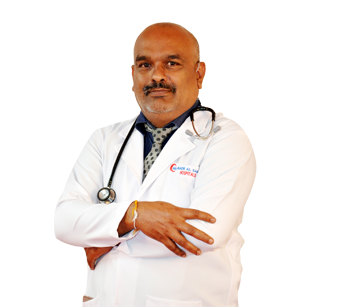 Dr Subhramanyan C
Specialist
Anaesthesiology
MBBS, DA, EDAIC1
19 years of experience
Barka (Oman)
About Dr Subhramanyan C
Dr Subhramanyan Chidambaram is an excellent Specialist in Anaesthesia with over 16 years of outstanding experience in various specialities and super-speciality branches of surgery and Anaesthesia. He is very skilled in providing Cardio-Thoracic anaesthesia for both adult and paediatric surgery patients. He is equally skilled in providing anaesthesia for General Surgical cases, Obstetrics and Gynaecology, Orthopaedics and Trauma, Urological Surgeries and Peripheral Vascular surgeries. Aside from these, he is also adept at providing anaesthesia for Laparoscopic Surgeries, Paediatric and Plastic surgeries, Maxillofacial and ENT Surgeries, Day Care surgeries and Anaesthesia in the MRI Suite, both as an Elective and Emergency
procedures.
Excellence & Experience
Area of excellence
Adept in BLS and ACLS protocol
Many successful Cardiac Arrest resuscitations
Managing patients with Cardiac failure, renal failure, Liver failure, DKA, Sepsis, STEMI and Non STEMI, Pancreatitis, ARDS, Acute exacerbations of COPD, Pneumonia and Trauma patients.
ICU management of medical and post-operative cases
Critical care
Level of Experience
Specialist Anaesthetist at Al-Raazi Hospital, Salalah - 2017
Freelance Consultant Anaesthetist – 2008-2017
Consultant Anaesthetist - Kamatchi Memorial Hospital, Chennai – 2006-2008
Senior Registrar - Apollo Hospitals, Colombo, Sri Lanka – 2005-2006
Senior Registrar - MIOT Hospitals, Chennai, India – 2001-2005
Awards & Academics
Academics Details
Bachelor of Medicine and Bachelor of Surgery (MBBS) - 1997
Diploma in Anaesthesia (D.A) – 2001
European Diploma in Anaesthesia Part 1(EDAIC) - 2016
ACLS and BLS certified (2017)
Out Patient Timings
The outpatient timings at Badr Al Samaa Hospitals have been planned in such a way that your choice of doctor is available whenever you are free.
| | | |
| --- | --- | --- |
| Sunday | Barka - Oman | Barka - Oman |
| Monday | Barka - Oman | Barka - Oman |
| Tuesday | Barka - Oman | Barka - Oman |
| Wednesday | Barka - Oman | Barka - Oman |
| Thursday | Barka - Oman | Barka - Oman |
| Friday | Barka - Oman | Barka - Oman |
| Saturday | Barka - Oman | Barka - Oman |