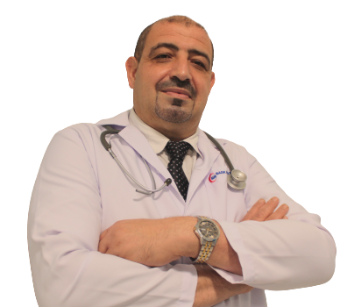 Dr Adel Mansour Al Misteeri
Specialist Internist
Internal Medicine
MBBS, MD, MRCP
26 years of experience
Barka (Oman)
About Dr Adel Mansour Al Misteeri
Dr Adel Mansour Al Misteeri is an exceptional Specialist in Internal medicine with over 22 years of outstanding clinical experience across various countries. He is highly skilled in managing acute and chronic health problems for both male and female patients and follows up with his patients when needed. He has special interest in gastroenterology and hepatology. He also provides his skills to both outpatients, inpatients as well as in caring for patients in intensive care. In the Emergency section, Dr Adel Mansour Al Misteeri is fully-qualified to care for the patients in acute states of distress as well as trauma cases.
Excellence & Experience
Area of excellence
General Internal Medicine
Gastroenterology and Hepatology
Diagnostic and Therapeutic Endoscopy
Emergency & Critical care
Level of Experience
22 years of experience in Internal Medicine with special interest in Gastroenterology and Hepatology
Experienced as Senior Lecturer and as an Examiner for undergraduate and post graduate students
Awards & Academics
Academics Details
MBBCH – Benghazi Medical University, Libya - 1991
Diplomat Occupational Health – WHO 1995
MD INTERNAL MEDICINE – Arab Board 1997
MRCP (UK) – Royal College London 1998
Out Patient Timings
The outpatient timings at Badr Al Samaa Hospitals have been planned in such a way that your choice of doctor is available whenever you are free.
Sunday
10:00 AM - 2:00 PM
Barka - Oman
7:00 PM - 11:00 PM
Barka - Oman
Monday
10:00 AM - 2:00 PM
Barka - Oman
7:00 PM - 11:00 PM
Barka - Oman
Tuesday
10:00 AM - 2:00 PM
Barka - Oman
7:00 PM - 11:00 PM
Barka - Oman
Wednesday
10:00 AM - 2:00 PM
Barka - Oman
7:00 PM - 11:00 PM
Barka - Oman
Thursday
Friday
10:00 AM - 2:00 PM
Barka - Oman
7:00 PM - 11:00 PM
Barka - Oman
Saturday
10:00 AM - 2:00 PM
Barka - Oman
7:00 PM - 11:00 PM
Barka - Oman