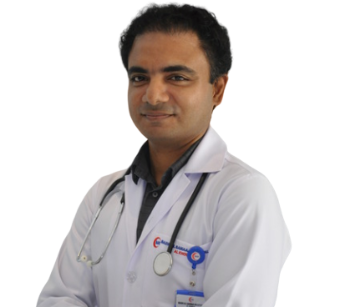 DR ABY SOMU
Chief Gastroenterologist
Gastroentrology
MD, DNB (Gastro)
14 years of experience
Al Khoud (Oman)
About DR ABY SOMU
Dr Aby Somu is an excellent Specialist Gastroenterologist with many years of outstanding clinical experience behind him. He is passionate about hepatology and advanced endoscopy procedures and is also involved in clinical studies and research. He is dedicated to the prevention, diagnosis and treatment of disease conditions associated with the digestive and hepatobiliary systems in both adults and paediatric patients. His skills extend to providing comprehensive care for disease conditions such as gastro-oesophageal reflux disease (GERD), colitis, pancreatitis, colon polyps, gastrointestinal cancers, liver cirrhosis, jaundice, nutritional problems, irritable bowel syndrome (IBS), etc.
Excellence & Experience
Area of excellence
Liver and Transplant
Inflammatory bowel disease
Pancreatitis
GERD
Advanced endoscopy
Level of Experience
10 years in Gastroenterology:
Senior Resident - PVS Memorial Hospital, Kochi, India
Consultant - Padua Hospital, Thrissur, India
Specialist Gastroenterologist – Badr Al Samaa Hospital, Oman
Awards & Academics
Academics Details
DNB (Gastroenterology) - PVS Memorial Hospital, Kerala - 2015
MD – KMC, Mangalore - 2009
MBBS - Govt Medical College Thrissur - 2003
Out Patient Timings
The outpatient timings at Badr Al Samaa Hospitals have been planned in such a way that your choice of doctor is available whenever you are free.
Sunday
9:00 AM - 1:00 PM
Al Khoud - Oman
5:00 PM - 9:00 PM
Al Khoud - Oman
Monday
9:00 AM - 1:00 PM
Al Khoud - Oman
5:00 PM - 9:00 PM
Al Khoud - Oman
Tuesday
9:00 AM - 1:00 PM
Al Khoud - Oman
5:00 PM - 9:00 PM
Al Khoud - Oman
Wednesday
9:00 AM - 1:00 PM
Al Khoud - Oman
5:00 PM - 9:00 PM
Al Khoud - Oman
Thursday
9:00 AM - 1:00 PM
Al Khoud - Oman
5:00 PM - 9:00 PM
Al Khoud - Oman
Friday
Saturday
9:00 AM - 1:00 PM
Al Khoud - Oman
5:00 PM - 9:00 PM
Al Khoud - Oman