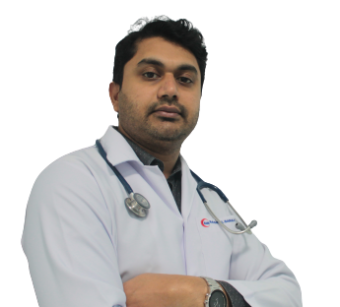 DR Mohammed Basheer Nishad
Specialist
Anaesthesiology
MBBS, DA
12 years of experience
Barka (Oman)
About DR Mohammed Basheer Nishad
Dr Mohammed Basheer Nishad is a highly skilled Specialist in Anaesthesiology with more than 10 years of exceptional experience backing him. He is an expert in perioperative care of patients and this includes before, during and after surgery of the patients, ensuring they experience the least pain possible. He is also very experienced in providing care in the ICU and in the use of ventilators. Along with this, his services are very useful in obstetrics patients for painless normal deliveries and in the Emergency section for critical care and pain management of trauma patients. Dr Mohammed Basheer Nishad also participates actively in workshops and seminars.
Excellence & Experience
Area of excellence
General and Regional Anaesthesia
Airway management-emergency & elective
Pain & Palliative care
Post-op analgesia
Critical care
Ventilator management
Level of Experience
Specialist in Anaesthesia - Badr Al Samaa Group of hospitals since 08/10/2015
Anaesthesiologist – Cherupushpam Trust hospital, Palai – 2012-2015
Junior Consultant - Department of Anaesthesiology & Emergency care, Marian Medical Centre – 2010- 2012
Anaesthesiologist - St. Alphonsa Cardiac Centre & Cath lab - 2010-2012
Resident Medical Officer - Cherupushpam Trust Hospital, Palai – 2007-2008
Awards & Academics
Academics Details
MBBS – Co-operative Medical College (under CUSAT), Kochi, Kerala – 2005
Diploma in Anaesthesia – Govt Medical College Hospital, Gandhinagar, Kerala
Out Patient Timings
The outpatient timings at Badr Al Samaa Hospitals have been planned in such a way that your choice of doctor is available whenever you are free.
Sunday
9:00 AM - 1:00 PM
Barka - Oman
5:00 PM - 9:00 PM
Barka - Oman
Monday
9:00 AM - 1:00 PM
Barka - Oman
5:00 PM - 9:00 PM
Barka - Oman
Tuesday
9:00 AM - 1:00 PM
Barka - Oman
5:00 PM - 9:00 PM
Barka - Oman
Wednesday
9:00 AM - 1:00 PM
Barka - Oman
5:00 PM - 9:00 PM
Barka - Oman
Thursday
9:00 AM - 1:00 PM
Barka - Oman
5:00 PM - 9:00 PM
Barka - Oman
Friday
9:00 AM - 1:00 PM
Barka - Oman
5:00 PM - 9:00 PM
Barka - Oman
Saturday
9:00 AM - 1:00 PM
Barka - Oman
5:00 PM - 9:00 PM
Barka - Oman