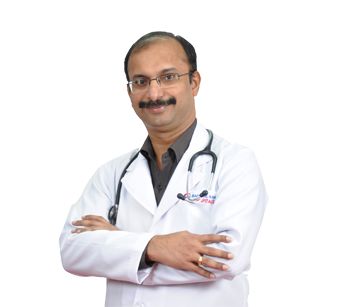 Dr RAVEENDRAN A V
Specialist Internist
Internal Medicine
MBBS, MD
24 years of experience
Barka (Oman)
About Dr RAVEENDRAN A V
Dr Raveendran A V is a renowned Specialist Internist with vast experience in the field of Internal Medicine. His interests are wide-ranging and include specialities like Diabetology, Rheumatology and Sexual Medicine. He has presented papers and original research works in various national and international conferences. Furthermore, he has published around 15 papers in various national and international Journals too. He also holds the enviable position of Editorial Board Member in various prestigious International Journals. He is a member of many esteemed medical bodies too.
Excellence & Experience
Area of excellence
Internal Medicine
Diabetology
Rheumatology
Sexual Medicine
Level of Experience
Worked as Assistant Professor of Medicine - Government Medical Colleges in Kozhikode, Kottayam, and Manjeri
Also worked as Physician across the private sector in Kerala
Awards & Academics
Academics Details
MBBS - Calicut Medical College - 1999
MD General Medicine – KIMS - 2006
PGD. Hsc (Diabetology) - Annamalai University - 2008
PGDHSR Kerala University - 2013
PG Certificate in Rheumatology - IMA AKN Sinha Institute - 2012
Fellowship certificate in Sexual Medicine - IMA Tamil Nadu - 2014
Out Patient Timings
The outpatient timings at Badr Al Samaa Hospitals have been planned in such a way that your choice of doctor is available whenever you are free.
Sunday
9:30 AM - 1:30 PM
Barka - Oman
5:00 PM - 9:00 PM
Barka - Oman
Monday
9:30 AM - 1:30 PM
Barka - Oman
5:00 PM - 9:00 PM
Barka - Oman
Tuesday
9:30 AM - 1:30 PM
Barka - Oman
5:00 PM - 9:00 PM
Barka - Oman
Wednesday
9:30 AM - 1:30 PM
Barka - Oman
5:00 PM - 9:00 PM
Barka - Oman
Thursday
9:30 AM - 1:30 PM
Barka - Oman
5:00 PM - 9:00 PM
Barka - Oman
Friday
Saturday
9:30 AM - 1:30 PM
Barka - Oman
5:00 PM - 9:00 PM
Barka - Oman