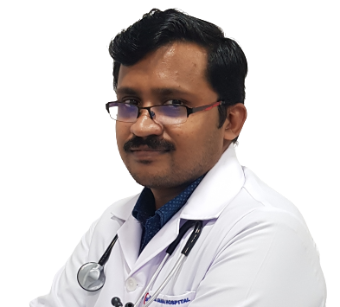 Dr VIPIN SREEKANTAN NAIR
Specialist Internist
Internal Medicine
MBBS,MD
6 years of experience
Suwaiq (Oman)
About Dr VIPIN SREEKANTAN NAIR
Dr Vipin Sreekandan Nair is highly qualified and well experienced doctor who has treated hundreds of complicated cases with huge success rate. He is regular in updating his clinical knowledge and attends conferences and workshops. He has written many research papers in many journals.
He is the member of IMA (Indian Medical Association) and API (Association of Physicians of India).
Excellence & Experience
Area of excellence
Diabetes
Hypertension
Thyroid disorder
Level of Experience
He has worked with many premier government hospitals and medical colleges before joining Badr Al Samaa Group of Hospitals.
Awards & Academics
Academics Details
MBBS; Govt Medical College ,Thiruvananthapuram, Kerala, India (2010)
MD (Internal Medicine); Government SCB Medical College, Cuttack, Odisha, India (2016)
Post Graduate Diploma in Cardiology; Royal College of Physicians of the United Kingdom
Out Patient Timings
The outpatient timings at Badr Al Samaa Hospitals have been planned in such a way that your choice of doctor is available whenever you are free.
Sunday
9:00 AM - 1:00 PM
Suwaiq - Oman
5:00 PM - 9:00 PM
Suwaiq - Oman
Monday
9:00 AM - 1:00 PM
Suwaiq - Oman
5:00 PM - 9:00 PM
Suwaiq - Oman
Tuesday
9:00 AM - 1:00 PM
Suwaiq - Oman
5:00 PM - 9:00 PM
Suwaiq - Oman
Wednesday
9:00 AM - 1:00 PM
Suwaiq - Oman
5:00 PM - 9:00 PM
Suwaiq - Oman
Thursday
9:00 AM - 1:00 PM
Suwaiq - Oman
5:00 PM - 9:00 PM
Suwaiq - Oman
Friday
Saturday
9:00 AM - 1:00 PM
Suwaiq - Oman
5:00 PM - 9:00 PM
Suwaiq - Oman