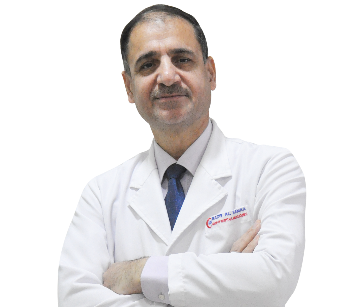 DR Ghassan Al-Yassari
Senior Consultant Orthopaedic Surgeon
Orthopaedics
CCT, FRCS, MSc, FRCS, MBChB
34 years of experience
Al Khuwair (Oman)
About DR Ghassan Al-Yassari
Dr. Ghassan Al-Yassari is a UK Board Certified Senior Consultant Orthopaedic Surgeon at London North West University Hospitals, London, UK, and visiting senior consultant Orthopaedic Surgeon at Badr Al Samma Hospital. Dr Ghassan also worked at Khoula Hospital, MoH, Oman as Senior Consultant Orthopaedic Surgeon. His main objective is to provide safe, effective and personalized care to his patients. Dr Ghassan is fellowship trained in upper limb trauma and upper limb reconstructive orthopaedic surgery. His orthopaedic higher surgical training was in London, UK, during which he had training at the Royal National Orthopaedic Hospital.
After he had successfully finished his higher surgical training in London, UK, he had a shoulder trauma fellowship in Salzburg, Austria, in 2008. He, also, had one year fellowship level training in shoulder and upper limb surgery at King's College Hospital, London, United Kingdom, on 2009. He has several cited publications in international orthopaedic Journals. He has participated in many international orthopaedic scientific conferences as an invited speaker. Chaired and organized the first Oman Shoulder and Knee Conference.
Excellence & Experience
Area of excellence
Shoulder and upper limb's Trauma and Orthopaedic problems
Knee Sport Injuries
Shoulder arthroscopic treatment for recurrent dislocation, rotator cuff tear, frozen shoulder, and shoulder impingement
Shoulder joint replacement
Elbow and wrist arthroscopic procedure
Upper limb fracture fixation.
Knee arthroscopic ACL reconstruction
Knee arthroscopic meniscus injuries treatment
Dupuytren contracture release
Carpal tunnel release
Trigger finger release
Ganglion excision
Level of Experience
Senior consultant orthopaedic surgeon, London North West University hospital, since January 2010
Senior Consultant orthopaedic surgeon, Khoula Hospital, Muscat, June 2014 to June 2019
Senior lecturer Medical College, Sultan Qaboos University 2015 to 2019
Consultant Orthopaedic Surgeon, Hillingdon Hospital, London UK 2007 to 2009
Awards & Academics
Academics Details
CCT (Tr& Orth) Postgraduate Board of Trauma and Orthopaedic Higher Surgical training, UK, 2007
FRCS (Tr&Orth) Royal College Of Surgeons, UK, 2006
MSc (Tr& Orth) University College London, UK, 2001
FRCS - Royal College Of Surgeons, UK, 1996
MBChB - College of Medicine, University of Baghdad, 1988
Out Patient Timings
The outpatient timings at Badr Al Samaa Hospitals have been planned in such a way that your choice of doctor is available whenever you are free.