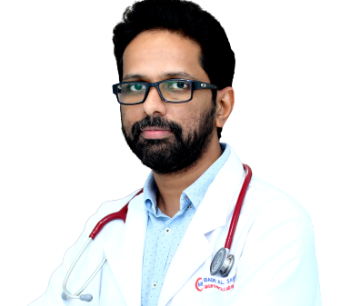 Dr Shahin K M
ENT Specialist
ENT
MBBS, MS ( ENT)
Suwaiq (Oman)
About Dr Shahin K M
Dr Shahin kuluppa Malol is an enthusiastic and personable specialist in the Department of Otorhinolaryngology. He possesses excellent communication and mentoring skills. He has good expertise in managing routine and complicated conditions in all the facets of ear, nose, and throat disease. Before joining the Badr Al Samaa Group he has worked as Assistant Professor in Malabar Medical College Kozhikode. He has presented many papers at different conferences. He secured second rank and silver medal in MS, ENT University exam.

Excellence & Experience
Area of excellence
Ear Endoscopy, Hearing Evaluation
Foreign Body Removal from Ear, Lobuloplasty
Nasal Endoscopy
Treatment for Acute & Chronic Sinusitis, Allergic Rhinitis and Nasal Polyps
Management of Nasal Bleed, Removal of foreign body from nose
Laryngoscopy for Evaluation of Voice Disorders & Vocal Cord Pathology
Removal of foreign body from the throat
Myringotomy & Grommet insertion
Tympanoplasy & Mastoidectomy
Nasal Bone fracture reduction
Septoplasty, Turbinoplasty / Turbinectomy
FESS (Functional Endoscopic Sinus Surgery)
Tonsillectomy & Adenoidectomy
Excision of Benign Cysts & Swelling of Head & Neck
Level of Experience
He has worked in many premier institutions of India like Malabar Medical College Hospital and Research Center, Baby Memorial Hospital and Aarupadai Veedu Medical College & Hospital.
Awards & Academics
Academics Details
MBBS: Yenepoya Medical College, Manglore, Karnataka, India (2009)
MS (ENT): Aarupadai Veedu Medical College, Pondicherry, (2018)
Out Patient Timings
The outpatient timings at Badr Al Samaa Hospitals have been planned in such a way that your choice of doctor is available whenever you are free.
Sunday
9:00 AM - 1:00 PM
Suwaiq - Oman
5:00 PM - 9:00 PM
Suwaiq - Oman
Monday
9:00 AM - 1:00 PM
Suwaiq - Oman
5:00 PM - 9:00 PM
Suwaiq - Oman
Tuesday
9:00 AM - 1:00 PM
Suwaiq - Oman
5:00 PM - 9:00 PM
Suwaiq - Oman
Wednesday
9:00 AM - 1:00 PM
Suwaiq - Oman
5:00 PM - 9:00 PM
Suwaiq - Oman
Thursday
9:00 AM - 1:00 PM
Suwaiq - Oman
5:00 PM - 9:00 PM
Suwaiq - Oman
Friday
Saturday
9:00 AM - 1:00 PM
Suwaiq - Oman
5:00 PM - 9:00 PM
Suwaiq - Oman