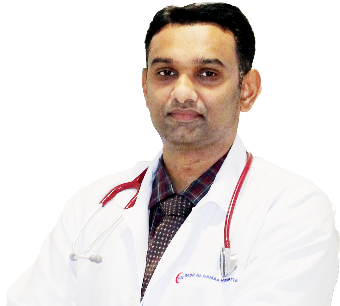 DR Alexander Paul K
Specialist Medical Gastroenterologist & Interventional Endoscopist
Gastroentrology
MBBS, MD, DM (Medical Gastroenterology)
9 years of experience
Sohar (Oman)
About DR Alexander Paul K
Dr. Alexander Paul K is an experienced Specialist Medical Gastroenterologist. Post DM (Medical Gastroenterology) he worked as senior resident at PVS Hospital in Kerala, for a period of 4 months following which he underwent training in Advanced Endoscopy including ERCP and Endoscopic Ultrasound under world-renowned Gastroenterologist Dr. Malay Sharma for a period of 6 months.
Apart from Diagnostic and Therapeutic Endoscopic procedures, he also has keen interest in diagnosing and treating Hepatobiliary and Pancreatic Diseases along with various types of acute and chronic disease conditions related to the Gastrointestinal system.

Excellence & Experience
Area of excellence
Inflammatory Bowel Disease
Chronic Liver Disease and related complications.
Pancreatitis
IBS, GERD
Diagnostic and Therapeutic Endoscopy
Level of Experience
Before joining at Badr Al Samaa Hospital, Dr. Alexander Paul K has worked as Consultant Medical Gastroenterologist at Dr SM CSI Medical College.
Awards & Academics
Academics Details
MBBS – AJ Medical College, Mangalore, India (2009)
MD – VMC, Andhra Pradesh, India (2014)
DM – Chettinad Medical College, Tamil Nadu, India (2017)
Advanced Endoscopy Fellowship – Meerut
Out Patient Timings
The outpatient timings at Badr Al Samaa Hospitals have been planned in such a way that your choice of doctor is available whenever you are free.
Sunday
9:00 AM - 1:00 PM
Sohar - Oman
5:00 PM - 9:00 PM
Sohar - Oman
Monday
9:00 AM - 1:00 PM
Sohar - Oman
5:00 PM - 9:00 PM
Sohar - Oman
Tuesday
9:00 AM - 1:00 PM
Sohar - Oman
5:00 PM - 9:00 PM
Sohar - Oman
Wednesday
9:00 AM - 1:00 PM
Sohar - Oman
5:00 PM - 9:00 PM
Sohar - Oman
Thursday
9:00 AM - 1:00 PM
Sohar - Oman
5:00 PM - 9:00 PM
Sohar - Oman
Friday
Saturday
9:00 AM - 1:00 PM
Sohar - Oman
5:00 PM - 9:00 PM
Sohar - Oman