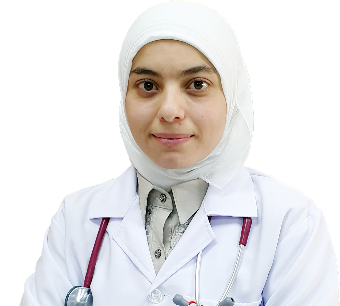 Dr Enaam Taha
Specialist Gynecologist
Obstetrics & Gynaecology
MD, MS (Obs & Gynae)
9 years of experience
Suwaiq (Oman)
About Dr Enaam Taha
Dr Enaam Taha is an outstanding specialist in Obstetrics & Gynaecology with vast experience garnered over many years during her training and work in well-known medical centres in Syria.
She is highly experienced in outpatient and inpatient cases including; antenatal care, screening high risk cases, gynaecological cancer screening, and performing both elective and emergency obstetric and gynaecologic operations. She is very dedicated and compassionate towards her patients, and keen to regularly attend conferences and workshops to keep her knowledge up-to-date.

Excellence & Experience
Area of excellence
Obstetric and Perinatal Medicine
Obstetric Ultrasound (Gynecologist-Level)
Painless Labour
Contraception
Female Genital Tract Infections
Gynaecological Cancer Screening
Menstrual Disorders
Menopausal Problems
Level of Experience
Dr. Enaam Taha has earlier worked as specialist gynaecologist at Syrian Family Planning Association and Maternity and Gynecology University Hospital, Damascus.
Awards & Academics
Academics Details
The Arab Board of Health Specializations, department of Obstetrics and Gynecology, Part one November 2017, Part 2 October 2019.
Syrian Board Certificate of Specialty in Obstetrics and Gynecology and its Surgery, October 2019.
Post Graduate Certificate, Masters Degree in Obstetrics and Gynecology, Damascus University August 2019.
Bachelor Degree in Human Medicine (M.D), Damascus University, December 2013.
Out Patient Timings
The outpatient timings at Badr Al Samaa Hospitals have been planned in such a way that your choice of doctor is available whenever you are free.
Sunday
9:00 AM - 1:00 PM
Suwaiq - Oman
5:00 PM - 9:00 PM
Suwaiq - Oman
Monday
9:00 AM - 1:00 PM
Suwaiq - Oman
5:00 PM - 9:00 PM
Suwaiq - Oman
Tuesday
9:00 AM - 1:00 PM
Suwaiq - Oman
5:00 PM - 9:00 PM
Suwaiq - Oman
Wednesday
9:00 AM - 1:00 PM
Suwaiq - Oman
5:00 PM - 9:00 PM
Suwaiq - Oman
Thursday
9:00 AM - 1:00 PM
Suwaiq - Oman
5:00 PM - 9:00 PM
Suwaiq - Oman
Friday
Saturday
9:00 AM - 1:00 PM
Suwaiq - Oman
5:00 PM - 9:00 PM
Suwaiq - Oman