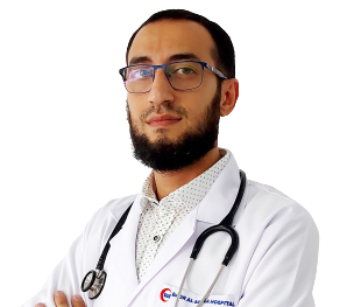 DR Laith Mohammad Al Haj Hazzaa
Specialist Cardiologist
Cardiology
MBBS, MD, Dip. Echocardiography
11 years of experience
Al Khoud (Oman)
About DR Laith Mohammad Al Haj Hazzaa
Dr. Laith has has great experience in invasive and non-invasive cardiac procedures, general cardiology and intensive care unit. He has been doing cardiology interventions in best hospitals in Syria. He has extensive experience in the diagnosis and treatment of a wide range ofcardiovascular conditions, such as angina pectoris, coronary heart disease, valvular heart diseases, heart failure, congenital heart disease, hypertension, pulmonary hypertension   and several other disorders of thecardiovascular system.
Excellence & Experience
Area of excellence
Heart failure and cardiac rehabilitation
Management of ischemic heart diseases
Structure heart diseases
Arrhythmias
Revascularization (angiography &angioplasty)
Congenital heart diseases
Level of Experience
He earlier worked with General Assembly of Damascus Hospital and other best private hospitals in Sriya.
Awards & Academics
Academics Details
Bachelor of Medicine (MBBS) , Damascus University, Sriya (2010)
Syrian Board License (MD) in Cardiovascular Diseases (2016)
Diploma in Echocardiography , Austrian Society of Cardiology (2019)
Out Patient Timings
The outpatient timings at Badr Al Samaa Hospitals have been planned in such a way that your choice of doctor is available whenever you are free.
Sunday
9:00 AM - 1:00 PM
Mabella - Oman
5:00 PM - 9:00 PM
Mabella - Oman
Monday
9:00 AM - 1:00 PM
Mabella - Oman
5:00 PM - 9:00 PM
Mabella - Oman
Tuesday
9:00 AM - 1:00 PM
Mabella - Oman
5:00 PM - 9:00 PM
Mabella - Oman
Wednesday
9:00 AM - 1:00 PM
Mabella - Oman
5:00 PM - 9:00 PM
Mabella - Oman
Thursday
9:00 AM - 1:00 PM
Mabella - Oman
5:00 PM - 9:00 PM
Mabella - Oman
Friday
Saturday
9:00 AM - 1:00 PM
Mabella - Oman
5:00 PM - 9:00 PM
Mabella - Oman