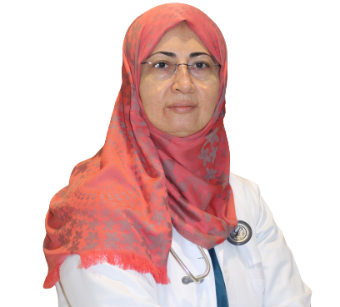 Dr Sundus Farouk Abdulateef
Specialist Obstetrician & Gynaecologist
Obstetrics & Gynaecology
MBChB, Diploma in Obs & Gynae
20 years of experience
Sohar (Oman)
About Dr Sundus Farouk Abdulateef
Dr. Sundus Farouk Abdulateef worked in OPD, following high risk pregnancies, she can efficiently do gynecology and obstetric ultrasound and doppler study. She worked in emergency and labour room dealing efficiently with gynecological and obstetric emergencies. She efficiently conducted high risk deliveries and does high risk caeserean sections and repeated caeserean sections. She is efficiently doing other procedures such as D&C, assisting in hysterectomies and laparoscopies. She is successfully treating couples with various infertility problems, doing IUI procedure with ovulation induction and achieving high pregnancy rate.
She is member of Iraqi Medicine Association. In 2018, she has got best doctor award for OBG department in MOH Sohar Hospital.
Excellence & Experience
Area of excellence
Management of all types of Obstetrics and gynecology patient emergency and cold situations
Management of infertility
Level of Experience
Dr. Sundus Farouk Abdulateef worked in Iraq as specialist OBG from 2003 to November 2006. Then she moved to Oman and worked as specialist OBG in a private medical centre from Feb 2007 to June 2008. After that she joined Badr Al Samaa Polyclinic, Sohar branch in 2008 and worked as specialist till Dececmeber 2012 . In Feb 2013 she joined MOH, worked in Sohar Hospital as specialist for about 8 years till March 2021.
Awards & Academics
Academics Details
Diploma in Obstetrics and Gynaecology, Al Mustansyria University, Baghdad, Iraq (2002)
MBChB, Al Nahrain University, Baghdad, Iraq (1994)
Out Patient Timings
The outpatient timings at Badr Al Samaa Hospitals have been planned in such a way that your choice of doctor is available whenever you are free.
Sunday
8:00 AM - 4:00 PM
Sohar - Oman
Monday
8:00 AM - 4:00 PM
Sohar - Oman
Tuesday
8:00 PM - 4:00 PM
Sohar - Oman
Wednesday
8:00 AM - 4:00 PM
Sohar - Oman
Thursday
8:00 AM - 4:00 PM
Sohar - Oman
Friday
Saturday
8:00 AM - 4:00 PM
Sohar - Oman