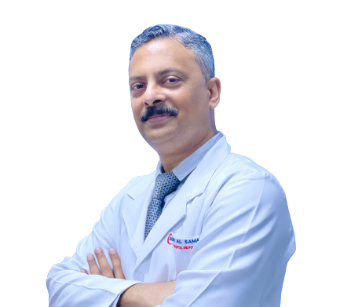 DR A Rajiv Sunny
Senior Specialist Orthopaedics
Orthopaedics
MBBS, MCh
25 years of experience
Al Khuwair (Oman)
About DR A Rajiv Sunny
Dr. Rajiv Sunny has an experience of around two and a half decade and is associated with Badr Al Samaa Medical Centre, Al Khuwair since inception. He has worked and trained in some of the best institutions in Indian, gaining remarkable expertise along the way. He is very committed towards his patients. His main interest is fracture trauma management, arthroscopic knee and shoulder pathologies, special interest in spinal disorders both trauma and cold cases. Dr. Rajiv also believes in staying abreast with latest developments in his field.
He is the member of Indian Orthopaedic Association (IOA) and Indian Arthroscopy Society (IAS).

Excellence & Experience
Area of excellence
Fracture Trauma Management Adult / Pediatric
Arthroscopic Surgeries
Arthroplasties
Spinal Management
Awards & Academics
Academics Details
MBBS, Nataji Subhash Chandra Bose Medical College ( 1997)
Diploma in Orthopaedics Nataji Subhash Chandra Bose Medical College (2001)
MCh, University of Seychelles (2013)
AO Trauma Fellow from Mainz Germany (2013)
Out Patient Timings
The outpatient timings at Badr Al Samaa Hospitals have been planned in such a way that your choice of doctor is available whenever you are free.
Sunday
9:00 AM - 1:00 PM
Al Khuwair - Oman
4:00 PM - 8:00 PM
Al Khuwair - Oman
Monday
9:00 AM - 1:00 PM
Al Khuwair - Oman
4:00 PM - 8:00 PM
Al Khuwair - Oman
Tuesday
9:00 AM - 1:00 PM
Al Khuwair - Oman
4:00 PM - 8:00 PM
Al Khuwair - Oman
Wednesday
9:00 AM - 1:00 PM
Al Khuwair - Oman
4:00 PM - 8:00 PM
Al Khuwair - Oman
Thursday
9:00 AM - 1:00 PM
Al Khuwair - Oman
4:00 PM - 8:00 PM
Al Khuwair - Oman
Friday
Saturday
9:00 AM - 1:00 PM
Al Khuwair - Oman
4:00 PM - 8:00 PM
Al Khuwair - Oman