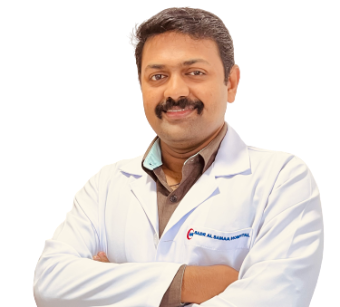 Dr Pradeep RKA
Specialist ENT Surgeon
ENT
MBBS, MS (ENT)
4 years of experience
Al Khoud (Oman)
About Dr Pradeep RKA
Dr. Pradeep RKA an enthusiastic and dedicated ENT Specialist with over 3 years experience in the healthcare industry.
He is extremely organized with the ability to work both independently of own initiative or as part of a successful team, demonstrating the motivation and multi-tasking abilities required to meet demanding deadlines while maintaining the highest of standards. He combines a professional and confident approach with excellent interpersonal skills and can communicate concisely at all levels. Currently looking for a new and challenging position as an Assistant doctor where I can develop my hospital experience.
He has writtenh many research papaers which are published in medical jpournals. He on best PG paper award at PhonoCon 2018 conducted at Cochin, paper titled "Unilateral vocal cord palsy an etiological study".
Excellence & Experience
Area of excellence
Disorders of Voice
Dizziness/ Vertigo management
Thyroid Disorders Diagnosis (FNAC) and Management
Endoscopic Sinus Surgeries (FESS)
Throat surgeries (Adenotonsillectomy, Direct and Micro Laryngoscopies)
Ear surgeries (Tympanoplasty)
Level of Experience
He has worked as specialst and consultant in many premier institutes in India before joining Badr Al Samaa Group.
Awards & Academics
Academics Details
MBBS Degree; RGUHS, Bangalore, Karnataka, India (2014)
MS (ENT / Otorhinolaryngology) ; Amrita Vishwa Vidyapeetham, University, Coimbatore (2018)
Fellowship in Otology, KKR ENT Hospital & Research Institute, Chennai, India
MBA (HEALTHCARE SERVICES); Sikkim Manipal University, India ( 2021)
Out Patient Timings
The outpatient timings at Badr Al Samaa Hospitals have been planned in such a way that your choice of doctor is available whenever you are free.
Sunday
9:00 AM - 1:00 PM
Al Khoud - Oman
5:00 PM - 9:00 PM
Al Khoud - Oman
Monday
9:00 AM - 1:00 PM
Al Khoud - Oman
5:00 PM - 9:00 PM
Al Khoud - Oman
Tuesday
9:00 AM - 1:00 PM
Al Khoud - Oman
5:00 PM - 9:00 PM
Al Khoud - Oman
Wednesday
9:00 AM - 1:00 PM
Al Khoud - Oman
5:00 PM - 9:00 PM
Al Khoud - Oman
Thursday
9:00 AM - 1:00 PM
Al Khoud - Oman
5:00 PM - 9:00 PM
Al Khoud - Oman
Friday
Saturday
9:00 AM - 1:00 PM
Al Khoud - Oman
5:00 PM - 9:00 PM
Al Khoud - Oman