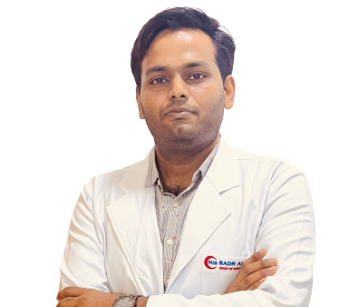 Dr Anoop Ramakrishna
Specialist Orthopaedic Surgeon
Orthopaedics
MBBS,MS (Orthopaedics)
8 years of experience
Mabella (Oman)
About Dr Anoop Ramakrishna
Dr. Anoop Ramakrishna is an Orthopaedic Surgeon with rich experience in dealing with many types of orthopaedics cases. He is well experienced in Trauma, Arthroplasty, Arthroscopy & Paediatric Orthopaedic cases. He believes in continually improving his clinical skills and knowledge and hence he attends workshops and conferences regularly. He has performed Upper & Lower limb Trauma surgeries and Primary TKR & Diagnostic Arthroscopy and assisted complex Polytrauma cases, Navigational TKR, Primary & Revision Total Hip Replacement and Arthroscopic Reconstruction and Repair of Knee injuries.

Excellence & Experience
Area of excellence
Joint & Back Pain
Sports Medicine
Trauma
Arthroplasty
Arthroscopy
Paediatric Orthopaedic
Level of Experience
He has worked in many premier institutes in India before joining Badr Al Samaa Group of Hospitals.
Awards & Academics
Academics Details
MBBS; Mysore Medical College & Research Institute, Mysore, India (2010)
MS (Orthopaedics); Bangalore Medical College & Research Institute, Bangalore, India (2014).
Fellowship in Trauma & Orthopaedic Surgery, Ganga Hospital & Medical Centre, Coimbatore, India (2016).
Out Patient Timings
The outpatient timings at Badr Al Samaa Hospitals have been planned in such a way that your choice of doctor is available whenever you are free.
Sunday
9:00 AM - 1:00 PM
Mabella - Oman
5:00 PM - 9:00 PM
Mabella - Oman
Monday
9:00 AM - 1:00 PM
Mabella - Oman
5:00 PM - 9:00 PM
Mabella - Oman
Tuesday
9:00 AM - 1:00 PM
Mabella - Oman
5:00 PM - 9:00 PM
Mabella - Oman
Wednesday
9:00 AM - 1:00 PM
Mabella - Oman
5:00 PM - 9:00 PM
Mabella - Oman
Thursday
9:00 AM - 1:00 PM
Mabella - Oman
5:00 PM - 9:00 PM
Mabella - Oman
Friday
Saturday
9:00 AM - 1:00 PM
Mabella - Oman
5:00 PM - 9:00 PM
Mabella - Oman