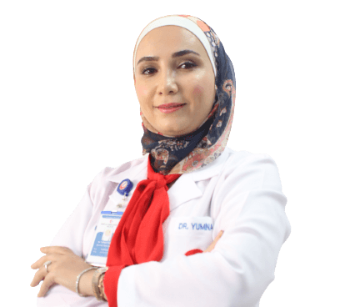 Dr Yumna Masri
Radiologist
Radiology
MD, Arab & Syrian Board, MBBS
10 years of experience
Salalah (Oman)
About Dr Yumna Masri
Dr.  Yumna  Masri started working in radiology in early 2008 and completed her residency program at Aleppo University Hospital, Syria. She is qualified and registered with The Syrian commission for medical specialties and the Arab board. She has vast experience and knowledge in her practice. She is interested in continuous medical education by attending CMEs and conferences regularly.  
Excellence & Experience
Area of excellence
Outpatient Care Including Emergency Management & Inpatient Rounds
Anomaly Scan
All Types of Gynaecology Cases Including Follicular Study
Ultrasound - Obstetrics, Abdomen, Thyroid, Breast Etc
Doppler - Arterial, Venous, Obstetrics
Mammogram
Interventional Procedures Like Ultrasound Guided Biopsy
X-Ray Whole Body
Level of Experience
She has worked with many advanced hospitals both in private and government sector in Syria for more than 9 years before coming to Oman.
Awards & Academics
Academics Details
MBBS, Aleppo University, Syria (2007)
MD (Radiology), Aleppo University (Syria)
Syrian board in Radiology
Arab board (2A)
Out Patient Timings
The outpatient timings at Badr Al Samaa Hospitals have been planned in such a way that your choice of doctor is available whenever you are free.
Sunday
9:00 AM - 1:00 PM
Salalah - Oman
5:00 PM - 9:00 PM
Salalah - Oman
Monday
9:00 AM - 1:00 PM
Salalah - Oman
5:00 PM - 9:00 PM
Salalah - Oman
Tuesday
9:00 AM - 1:00 PM
Salalah - Oman
5:00 PM - 9:00 PM
Salalah - Oman
Wednesday
9:00 PM - 1:00 PM
Salalah - Oman
5:00 PM - 9:00 PM
Salalah - Oman
Thursday
9:00 AM - 1:00 PM
Salalah - Oman
5:00 PM - 9:00 PM
Salalah - Oman
Friday
9:00 AM - 1:00 PM
Salalah - Oman
5:00 PM - 9:00 PM
Salalah - Oman
Saturday