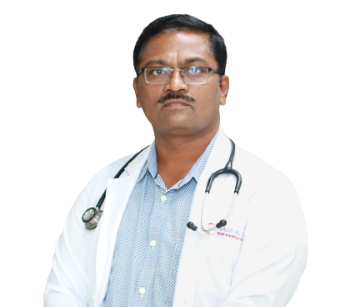 DR RAVINDRA DHANWAD
Orthopedic Surgeon
Orthopaedics
MBBS, D. Ortho, DNB (Ortho), MCh
20 years of experience
Falaj Al Qabail (Oman)
About DR RAVINDRA DHANWAD
Dr. Ravindra Dhanwad specialized in orthopaedic surgery, gained extensive exposure and experience under eminent Consultants to deal with a wide range of conservative and operative management of common out-patient conditions and complex case scenarios.
He has actively participated in national and international conferences for updates with changing approaches and newer trends in the evolving management in the field of Orthopaedics and Traumatology.
He is the member of the Karnataka Medical Council and Maharashtra Medical Council.

Excellence & Experience
Area of excellence
Trauma
Arthroscopy
Hand Surgeries And Joint Replacement
Spine Surgeries
Level of Experience
He is associated with Badr Al Samaa Group of Hospitals since 2008. He was earlier working with prestigious institutions in India.
Awards & Academics
Academics Details
MBBS from MR Medical College, Gulbarga, 2000
D Ortho, KIMS HUMLI (2005)
DNB (Ortho), Hardikar Hospital (2008)
MCh (Ortho), Seychellies University (2013)
Out Patient Timings
The outpatient timings at Badr Al Samaa Hospitals have been planned in such a way that your choice of doctor is available whenever you are free.
Sunday
9:00 AM - 1:00 PM
Falaj Al Qabail - Oman
5:00 PM - 9:00 PM
Falaj Al Qabail - Oman
Monday
9:00 AM - 1:00 PM
Falaj Al Qabail - Oman
5:00 PM - 9:00 PM
Falaj Al Qabail - Oman
Tuesday
9:00 AM - 1:00 PM
Falaj Al Qabail - Oman
5:00 PM - 9:00 PM
Falaj Al Qabail - Oman
Wednesday
9:00 AM - 1:00 PM
Falaj Al Qabail - Oman
5:00 PM - 9:00 PM
Falaj Al Qabail - Oman
Thursday
9:00 AM - 1:00 PM
Falaj Al Qabail - Oman
5:00 PM - 9:00 PM
Falaj Al Qabail - Oman
Friday
Saturday
9:00 AM - 1:00 PM
Falaj Al Qabail - Oman
5:00 PM - 9:00 PM
Falaj Al Qabail - Oman