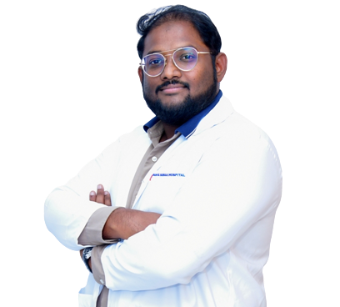 Dr Arshad Arif
Specialist Orthopedic Surgeon
Orthopaedics
MBBS, MS (Orthopedic Surgery)
6 years of experience
Sohar (Oman)
About Dr Arshad Arif
Besides his caring and personable attitude towards patients, Dr. Arshad's previous experience has given him exceptional mechanical skill and realistic approach. His years of training in the field serve as noteworthy evidence of his expertise. He has worked and trained in some of the best Institutions in India, where they focus on High end Primary and Revision Joint Replacements, Stem Cell Cartilage Regeneration and Joint Restoration technique, Limb Reconstruction procedures, Trauma and Arthroscopic Surgery. He has gained impressive proficiency in all fields of orthopedic surgery including spinal injuries, Sports injuries and Joint Replacement and Joint preserving surgeries. He is also skilled in management of fractures and other unscheduled trauma cases from the Emergency Department. To stay abreast of the most recent advancements, He frequently goes to workshops and conferences.
Excellence & Experience
Area of excellence
Sports surgeries
Spine Injuries
Joint replacement procedures
Arthroscopic procedures for knee and shoulder
Revision Arthroscopic procedures
Single stage stem cell Cartilage transplant surgeries
Other Stem cell procedures
Trauma
Polytrauma
Level of Experience
He has got a vast experience in the field of orthopedic surgery and expert in managing all the most complicated cases having experience in the prestigious institutions in India before he joined in Oman.
Awards & Academics
List of awards
MBBS Al-Ameen Medical College, Bijapur, India (2005)
MS (Orthopedic Surgery), Sree Gokulam medical college, Trivandrum, India (2012)
Out Patient Timings
The outpatient timings at Badr Al Samaa Hospitals have been planned in such a way that your choice of doctor is available whenever you are free.
Sunday
9:00 AM - 1:00 PM
Sohar - Oman
5:00 PM - 9:00 PM
Sohar - Oman
Monday
9:00 AM - 1:00 PM
Sohar - Oman
5:00 PM - 9:00 PM
Sohar - Oman
Tuesday
9:00 AM - 1:00 PM
Sohar - Oman
5:00 PM - 9:00 PM
Sohar - Oman
Wednesday
9:00 AM - 1:00 PM
Sohar - Oman
5:00 PM - 9:00 PM
Sohar - Oman
Thursday
9:00 AM - 1:00 PM
Sohar - Oman
5:00 PM - 9:00 PM
Sohar - Oman
Friday
Saturday
9:00 AM - 1:00 PM
Sohar - Oman
5:00 PM - 9:00 PM
Sohar - Oman