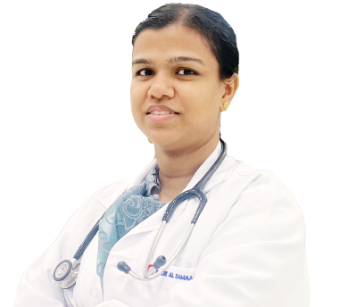 DR Leeba Sara Thomas
Specialist – Obstetrician And Gynecologist
Obstetrics & Gynaecology
MBBS, DNB
5 years of experience
Sohar (Oman)
About DR Leeba Sara Thomas
Dr. Leeba Sara Thomas is very experienced and well qualified gynaecologist. She has a track record of successfully treating hundreds of complicated and dealing with her patients with care and compassion.

Excellence & Experience
Area of excellence
Routine Antenatal Check Up For Low Risk and High Risk Pregnancy
Normal and Instrumental Delivery
Caesarean Section
Menstrual Irregularities Diagnosis and Management
Infertility Workup
Contraceptive Advice
Postmenopusal Problems Management
Awards & Academics
Academics Details
MBBS, Kannur University, Kerala, India (2012)
DNB, Kerala Institute of Medical Sciences, Kerala, India (2017)
Out Patient Timings
The outpatient timings at Badr Al Samaa Hospitals have been planned in such a way that your choice of doctor is available whenever you are free.
Sunday
9:00 AM - 1:00 PM
Sohar - Oman
5:00 PM - 9:00 PM
Sohar - Oman
Monday
9:00 AM - 1:00 PM
Sohar - Oman
5:00 PM - 9:00 PM
Sohar - Oman
Tuesday
9:00 AM - 1:00 PM
Sohar - Oman
5:00 PM - 9:00 PM
Sohar - Oman
Wednesday
9:00 AM - 1:00 PM
Sohar - Oman
5:00 PM - 9:00 PM
Sohar - Oman
Thursday
9:00 AM - 1:00 PM
Sohar - Oman
5:00 PM - 9:00 PM
Sohar - Oman
Friday
Saturday
9:00 AM - 1:00 PM
Sohar - Oman
5:00 PM - 9:00 PM
Sohar - Oman